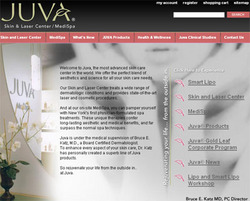 The Affirm CO2 laser is the newest fractional laser technology that has been shown to be the most effective in treating wrinkles, sun damage, pigment changes and acne scarring with minimal downtime and side effects
New York, NY (PRWEB) August 7, 2008
New York City laser resurfacing has taken a giant leap forward with the introduction of Affirm CO2. The innovative laser workstation is the latest anti-aging secret to take the skin rejuvenation scene by storm.
The Affirm CO2 ablative workstation was developed by Cynosure Inc., the developer and manufacturer of a line of light-based aesthetic treatment systems used in wrinkle reduction procedures and skin rejuvenation treatment. According to New York City skin care expert Dr. Bruce Katz, founder and medical director of JUVA Skin & Laser Center, the technology emerges as the best treatment for upper lip wrinkles and deep under eye wrinkles for patients who want a balance between dramatic results and quick recovery.
"The Affirm CO2 laser is the newest fractional laser technology that has been shown to be the most effective in treating wrinkles, sun damage, pigment changes and acne scarring with minimal downtime and side effects," explained JUVA Skin director Dr. Bruce Katz. "It can be used on the face, neck, chest and other areas of the body and is a major advance in skin rejuvenation."
Dr. Katz, a well-known figure in New York City skin care circles, praised the flexibility of the Affirm CO2, which performs light to aggressive treatment with a single laser: "It's important to note that this system also offers scanning options, which allow for variable treatment times and uniform coverage of the surface undergoing treatment."
The technology uses an ablative approach to target the skin's epidermal and dermal layers to treat dyschromia, deep wrinkles, acne scarring and significant photo-aging. Affirm CO2 also integrates a carbon dioxide laser with Micro Ablative scanning technology for the most versatile and effective wrinkle correction currently available today.
Patients interested in Affirm CO2 should consult with their regular physicians as well as a skin care expert for wrinkle reduction advice and guidance on the best wrinkle treatments for their skin types and lifestyles. For more information about Affirm CO2 and other New York City laser resurfacing services and anti-aging information, visit the JUVA Skin & Laser Center online at Juvaskin.com.
About JUVA Skin & Laser Center:
JUVA Skin and Laser Center offers state-of-the-art specialized procedures in laser and cosmetic surgery, aesthetic skin care and general dermatology, including the newest innovations in Smartlipo and CO2 skin resurfacing. The leading New York City skin care center is staffed by skilled physicians who teach at Mt. Sinai Medical Center, publish and lecture internationally, and are renowned for finding innovative solutions to a wide variety of dermatologic and aesthetic conditions. The JUVA Skin & Laser Center and MediSpa is accredited by the AAAHC.
###