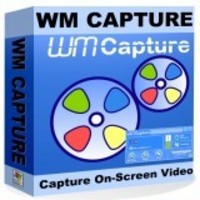 San Anselmo, CA (PRWEB) August 7, 2008
When the Olympics start tomorrow it will be easy to watch all the coverage online at NBCOlympics.com. NBC and Microsoft have partnered to create a site that will stream not only all the coverage of the competitions, but will offer exclusive video of the athletes, their training and special events leading up to the individual competitions. All this video will be streamed using Microsoft's Silverlight format. And while the video is readily available to watch, downloading the streaming video isn't possible. No one has developed a software program that can stream capture the Silverlight format. WM Capture, by Applian Technologies and All Alex Inc, offers an alternative solution.
WM Capture is a screen capture program that has been optimized for making high quality videos right from the PC's screen. It uses a high speed MPEG-2 codec that can compress video fast, offering superior picture quality. Additionally, the program's developer has created special audio capture technology also incorporated into the program. The resulting recordings are, according to the company, so superior that it is hard to distinguish these screen capture recordings from the original streamed video. There is no recorder available on the market that can capture all the Olympic coverage on NBCOlympics.com with better clarity than WM Capture, they say.
WM Capture is just $39.95, and will work on all modern Windows PC's. To learn more, visit http://www.wmrecorder.com.
About All Alex Inc.
WM Capture was developed by Alex Urich of All Alex, Inc, which also developed WM Recorder and WM Converter. Alex Urich partnered with Applian Technologies in 2003, and they have been working together ever since. Alex Urich also has started Circuit Tree Medical and AHA Software Companies. He has been developing software for over 15 years.
About Applian Technologies, Inc.
Applian Technologies is recognized as the global leader in software products for recording streaming media. Other popular Applian products include Replay Media Catcher, Replay A/V, Replay Converter, and Replay Music. Learn more about Applian Technologies at Applian.com.
For more information about the WM Capture please contact:
Leslie Bee
Director of Marketing
Applian Technologies
http://www.Applian.com
1-888-808-9877 ext. 4
###