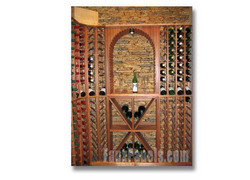 For the homeowner or contractor who is already familiar with how to install vinyl siding, our new Nailon line gives the look of stone or brick with a similar installation technique
Deer Park, NY (PRWEB) August 7, 2008
FauxPanels.com today announced a major expansion of their product lines, multiplying their offerings by adding four new lines and over 400 new products. This expansion gives FauxPanels.com the distinction of providing more kinds of faux stone panels online than anyone else. They also announced a redesigned web site offering new and enhanced features for selecting, evaluating and ordering the full range of faux panel products.
"With gas prices up, people are traveling less and investing more in their homes," says Faux Panel sales manager Jeff Ommundsen. "All the do-it-yourself programs on TV get homeowners excited about doing projects, whether they do all the work themselves or hire a contractor. Either way, our products make the project much easier and more affordable."
The four new product lines complement the company's original and newly expanded Oxford line of faux rock panels.
Regency random rock, stacked stone and brick faux panels for deeper realism.
"The industry is demanding faux products that look highly realistic," says Ommundsen. "To that end we've added a new dimension to faux panels with our Regency line. It's a more dimensional product, to give you a real 3D look of stone." The Regency line includes panels that look like random rock, stacked stone and brick.
Windsor random rock, drystack and ledgestone faux panels for a distinctive look.
The Windsor line of fake stone panels offers still more rock and stone designs, including actual stone dust in the construction for a more realistic texture. They offer the same ease of handling and installation, light weight, durability and touch-it-to-believe-it realism as the other fake panel lines. Used inside or outside, the simulated panels can cover an entire wall or highlight a single structure or feature.
Nailon faux stone and brick siding instead of vinyl.
The Nailon line is a new alternative to vinyl siding. "For the homeowner or contractor who is already familiar with how to install vinyl siding, our new Nailon line gives the look of stone or brick with a similar installation technique," says Ommundsen. Nailon siding is made of injection-molded polypropylene for long-lasting durability and treated with stabilizers to maintain its appearance over time. It's equally at home on residential and commercial buildings.
Majesty faux stone and brick columns for the masonry look without a mason.
"Another example of simplifying installation is our new Majesty faux columns." According to Ommundsen, "You no longer need to hire a mason to achieve the look of a stone or brick column or fence post or mailbox." The Majesty line of faux columns gives the homeowner and remodeler new options for using faux materials as columns and posts for fences, gates, balustrades, lamps, mailboxes and more. The columns are sturdy and substantial but also meet safety regulations for collapsing on impact.
Easy to browse, choose and order the full range of faux panel products.
With more than 400 new products online, the FauxPanels.com web site itself has also grown and improved.

The panel selector lets visitors quickly narrow their choices to find the panels that meet their needs and fit their tastes.
Reviews written by fellow homeowners and remodelers give real-world perspective, opinions and tips.
The site now offers shopping by panel style as well as searching by keyword or model number.
Illustrated instructions and video tutorials explain every step of the installation process.
Ordering is quick and easy.
Shoppers can even order a gift certificate for a fellow remodeler.
All these new products and features are available now at FauxPanels.com.
The advantages of faux panels:
Faux panels offer an affordable, easy-to-install, maintenance-free alternative to actual wood, stone or brick paneling or siding. The paneling is incredibly realistic because each is cast from a mold of the actual stone, rock, brick or wood, keeping every detail. Unlike other panels, these are not made from vinyl, with its accompanying environmental and health concerns. FauxPanels.com products are constructed from rigid polyurethane for a maintenance-free long life. They are not affected by moisture, heat, cold or insects and can be easily cleaned with a garden hose. Many of the panels are also available with a Class A fire rating for added protection.
About FauxPanels.com:
Faux Panels leads the industry with the most realistic faux brick, stone and wood paneling, siding and column products on the market. It is a subsidiary of Barron Designs Inc., a family business dedicated to the home improvement industry since 1972. For more information, visit FauxPanels.com.
###