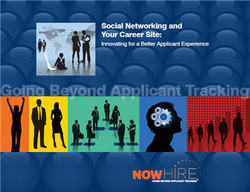 Static career sites no longer work
Detroit, MI (PRWEB) August 7, 2008
Social media has changed the game in recruiting. Organizations need to be creative and compelling in their communications to attract the best job candidates, and support it with an interactive career site.
In Social Networking and Your Career Site: Innovating for a Better Applicant Experience, applicant tracking vendor nowHIRE urges organizations to take the time to understand the new breed of applicants. Job seekers today are highly connected through online social networking sites like Facebook, LinkedIn and MySpace. And they expect that same level of interaction from potential employers.
"Static career sites no longer work," said Joseph Impastato, president of nowHIRE. "Many of the applicants live online, and expect more than one-way communications from companies they'd like to work for. Companies need to reach out with new media like blogging and video tours, which brands their company as forward-thinking and applicant-friendly."
Since applicants are consumers of the corporate brand, companies that design or redo their career site must remember specific candidate demographics. These include the age of the applicants, what their primary language is, their education level and what type of job they're looking for (hourly or salaried).
Since career sites are the front end that integrates into the company's hiring system, companies can do much to keep the conversation going. Pre-screening assessments should be designed so applicants can stop and start on their own time. Automated responses to applicant interaction personalize the company's keep-in-touch communications (such as interview scheduling, status checks, etc.)
The nowHIRE application tracking system is the only system on the market focused on the applicant experience. nowHIRE provides the frontline technical support for candidates, with experts that respond to their questions quickly. Candidates can check their status online, and the system supports multiple languages. All these functions help candidates feel valued and respected during the application process.
To discover other key considerations for social media interaction and today's applicants, download a copy of the white paper, "Social Networking and Your Career Site: Innovating for a Better Applicant Experience," at http://www.nowhire.com/register_SN_whitepaper.htm.
About nowHIRE
Since 1998, nowHIRE has been a premier provider of applicant tracking systems for companies of every size within diverse vertical markets. Their industry-defining solutions feature fully integrated, Web-based recruiting and applicant tracking software modules. Companies are able to configure the software to their specific recruiting needs—whether it be for hourly, salaried, internal or contingent employees, or any combination thereof. nowHIRE's solutions give clients what they call "Zoom"—the competitive edge.
Media Contact:
Joseph N Impastato II
586-778-8491 (15)
Joseph.Impastato(at)nowHIRE.com
Gail DeLano
Fisher Vista, LLC / HRmarketer.com
831-685-9700
gdelano(at)fishervista.com
Adriana Saldana
Fisher Vista, LLC / HRmarketer.com
831-685-9700
asaldana(at)hrmarketer.com
This press release was distributed through eMediawire by Human Resources Marketer (HR Marketer: http://www.HRmarketer.com) on behalf of the company
listed above.
###