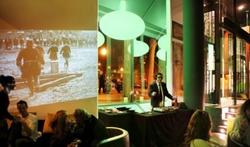 Barcelona, Spain (PRWEB) August 11, 2008
Hotel lobby lounges are increasingly becoming the place to see and be seen. Casanova by Rafael Hotels' chic Lobby Bar is part of Barcelona's fashionable social scene, serving up DJ's spinning the latest beats and a succulent ceviche menu, against a cinematic backdrop of classic black and white films to the latest music videos. The glowing, back lit pistachio-hued glass bar is the centerpiece of this hip, comfortable lounge for enjoying cocktails such as the "Casanova," a festive signature drink of strawberries, lime juice, Cinzano, Lillet and sugar created by the hotel's on-site "restaurant choreographer." The bar menu features many local favorites, a highlight being a selection of seafood ceviches inspired by Mexican and Mediterranean ingredients. Playful overhead lighting fixtures add a whimsical note to the retro furniture which pay homage to the designs of Catalan born artist Joan Miro.
Through September 15th, Rafaelhoteles' "New Currency" program promises a set exchange rate of just 1.3 for U.S. travelers. The nightly rate per room at Casanova starts at $197 USD. The special exchange rate is available for room only and does not include taxes and service charge. The rates after September 15th start at $250 USD a night (160 Euros). For Barcelona reservations, please call 1 866 849 6396 or visit http://www.casanovaBCNhotel.com.
Casanova Hotel by Rafael Hotels
As a member of Small Luxury Hotels of the World, the refashioned Casanova Hotel debuted in Barcelona in November 2007. Like its namesake, this hip yet elegant establishment exudes charisma, style and sex appeal with 124 rooms and suites that feature retro-inspired furnishings with modern luxuries. Mexiterranée restaurant features an in-house choreographer to change the scene monthly. Coming in the summer of '09, a rooftop pool and lounge complete with hammocks. Within walking distance of Las Ramblas, famed Gaudi creations and top cultural attractions, Casanova blends modern design with theatrical flair, mirroring the city itself.
###