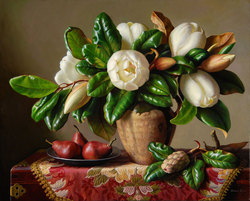 My paintings are a joyful place to be; reflective, like the view out of a window, offering the opportunity to focus on the endless beauty of nature. I try to express my unbounded love and appreciation for life and the simple yet complicated beauty of this world in an honest, straightforward manner
Santa Fe, NM (PRWEB) August 11, 2008
Still life paintings by award-winning Andreeva artist Grace Kim in her much anticipated September 19 exhibition at the Manitou Gallery in Santa Fe are unveiled for presales with the release of her digital show catalog http://www.andreevagallery.com/main/exhibitions/16-grace-kim/intro (Andreeva Artists Grace Kim Exhibition).
A winner of numerous Still Life awards and recognitions (e.g. 2006 International Realist Competition) Kim's vibrant paintings echo the rich Dutch tradition, with contemporary appeal. "My paintings are a joyful place to be; reflective, like the view out of a window, offering the opportunity to focus on the endless beauty of nature. I try to express my unbounded love and appreciation for life and the simple yet complicated beauty of this world in an honest, straightforward manner," says Kim.
Manitou Gallery is co-sponsoring the Kim exhibit with Andreeva Artists at their luxurious gallery at 123 West Palace Ave in Santa Fe, NM 87501. Andreeva represents award-winning painters of classical realism, for sale and for portrait commissions.
http://www.AndreevaCommissions.com. (Andreeva Artists/Academy/Commissions). Andreeva also provides instruction in painting at its Santa Fe atelier and in its new branch campus near Austin, Texas.
For more information regarding the acquisition of Grace Kim paintings, please contact:
Pam Osborn, Director
Director @ AndreevaArtists.com
505.982.7272
# # #