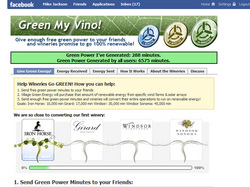 People want to see more renewable energy development, and by participating on Facebook, the users can actually see that development occur. It is a unique opportunity to witness and participate in companies going green
San Francisco, CA (PRWEB) August 8, 2008
Iron Horse Vineyards, Girard Winery, Windsor Vineyards, and Windsor Sonoma Vineyards in Sonoma County and Napa Valley have launched an innovative green energy campaign on Facebook to generate awareness about renewable energy and provide a way for Facebook's 90 million users to actively participate in motivating wineries to go green.
San Francisco-based Village Green Energy created the Facebook application, named "Green My Vino", which launched on Wednesday, August 6.
"People want to see more renewable energy development, and by participating on Facebook, the users can actually see that development occur. It is a unique opportunity to witness and participate in companies going green," says sustainability consultant John Garn, who worked on developing the Code of Sustainable Winegrowing workbook for the California Wine Institute and the California Association of Winegrape Growers.
The application enables Facebook users to give each other free online gifts worth One Minute, Five Minutes, and Ten Minutes of renewable energy. Each "minute of renewable energy" is equivalent to the amount of electricity the average person uses in a minute. For each gift, Village Green will purchase the equivalent amount of renewable energy for the user.
The wineries step forward as certain milestones are achieved. Iron Horse Vineyards is going first and has agreed to power their entire operations with renewable energy when Facebook friends have gifted each other with 10,000 minutes of solar and wind power. At this point, Village Green will have purchased 10,000 minutes of clean energy for the users of Green My Vino, and Iron Horse will purchase 32.5 million minutes of clean energy for their own operations.
After only 24 hours in operation, Green My Vino users are already more than halfway towards converting Iron Horse to renewable energy.
"It's like a petition with a guaranteed outcome from participation. If Facebook users get behind this effort, they know they can make a change," says Iron Horse CEO Joy Sterling. "For us, it's an incentive to incorporate green energy in our sustainability strategies."
Girard Winery, Windsor Vineyards, and Windsor Sonoma Vineyards are lined up to take over with each new milestone.
"We jumped at the opportunity to participate in the application," said Windsor CEO Pat Roney. "Green My Vino gives the community the opportunity to interact with businesses and make their voices heard. When people participate in the application, they're telling us that clean energy is a priority for them, and we'll make supporting renewable energy a part of our commitment as a business."
If the application is successful, Village Green estimates the wineries will purchase over 1.2 million kWh of renewable power - enough to power the four initial wineries entirely with green energy for a year based on their past electricity use. The renewable power will be purchased via renewable energy certificates from Mountain View II Wind Facility in Palm Springs and several solar arrays in Los Angeles.
"Facebook creates the opportunity for collective action towards a goal, and we think we have realized that opportunity with this application," says Village Green Co-Founder Robby Bearman. "Our goal is to leverage the power of social networks to motivate positive environmental action in the business world."
"I am excited about the power of social networking," says Sterling. "My hope is that this will be so successful that more wineries will become involved, broadcasting our message to as many people as possible." Roney agreed, adding "this is part of an effort to bring together the wine community around a common cause."
Village Green has partnered with 750 Industries, a leading social marketing startup based in San Francisco, to design and launch the Green My Vino Facebook application. The 750 team is working with Village Green to build the application, using 750's proprietary Viral Engineering Platform to fully understand how users are engaging with the application and optimize for friend-to-friend sharing.
The application website off of Facebook can be found at http://www.villagegreenergy.com/facebook. Here visitors can track the application's progress, learn more about renewable power and ways to help, and get involved in outreach efforts on behalf of green power.
About Village Green Energy:
Village Green Energy is a San Francisco-based company that enables households and businesses to support renewable energy from local generators. The Facebook application is part of the company's efforts to build a large grassroots customer base and create economic incentives for businesses to go green. More about the company, including how renewable energy purchasing works and how to participate in the application can be found at http://www.villagegreenenergy.com.
About Iron Horse Vineyards:
Iron Horse is a family owned Sonoma winery best known for its Sparkling Wines, which have been served at the White House since 1985, beginning with the historic U.S.-Russian Summit Meetings ending the Cold War, at the White House Millennium celebrations ushering in the 21st Century, and most recently at the White House dinner honoring the Pope. For more information on the family and their wines, please visit http://www.ironhorsevineyards.com.
About Girard Winery:
Named Winery of the Year by Wine & Spirits Magazine, Girard offers friendly, first-class service and highly-rated wines made by Wine Spectator acclaimed winemaker Marco DiGiulio. Best known for its 5-star Bordeaux blend called "Artistry," its Spectator 91-point Diamond Mountain Cabernet, its Spectator 93-point Estate Cabernet and its cult-status Petite Sirah, Girard over-delivers on quality and value in every bottle. Visit Girard at its new Yountville tasting room, or learn more about the Winery and its acclaim at http://www.girardwinery.com.
About Windsor Vineyards:
Windsor Vineyards is America's oldest and largest direct-to-consumer winery, and one of the nation's top award-winning wineries since it was founded by Rodney Strong in 1959. Today, vintner Patrick Roney and Wine Spectator acclaimed winemaker Marco DiGiulio, carry on Windsor's long tradition of excellence in winemaking, and of customizing the labels on our wines. For more information about the winery, its exceptional and unique personal service, its wine bottle etching and wine label personalization program, visit http://www.windsorvineyards.com.
About Windsor Sonoma:
Windsor Sonoma is a new, ultra-premium winery that showcases the best appellations in Sonoma County. At Windsor Sonoma, Vintner Patrick Roney and Wine Spectator acclaimed Winemaker Marco DiGiulio create world-class wines that celebrate terroir and true varietal character. Windsor Sonoma is the perfect complement to the acclaimed Girard Winery in the Napa Valley, where Roney and DiGiulio have already achieved celebrity. Building a winery on its 40-acre vineyard estate on Westside Road in the esteemed Russian River Valley appellation, Windsor Sonoma has already established its place among the top Sonoma producers. For more information please visit http://www.windsorsonoma.com.
###