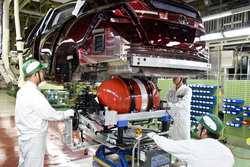 There certainly is a lot of interest in hydrogen cars at the moment
(Vocus) August 8, 2008
Honda's recent launch of a family car, the FCX Clarity that runs on hydrogen, has everyone thinking about green motoring. But hydrogen is a highly flammable lighter-than-air gas that sets alarm bells ringing with drivers and insurance companies alike.
So it's not surprising that most insurance companies fight shy of insuring vehicles with a boot full of highly explosive gas. However Adrian Flux Insurance Services is well known for offering cover on vehicles that other insurers won't touch and is already getting enquiries from customers about insuring hydrogen-powered vehicles.
"There certainly is a lot of interest in hydrogen cars at the moment," says Gerry Bucke of Adrian Flux. "Some people can't wait for these cars to be commercially available – they've jumped on the hydrogen band-wagon and are having a go at DIY conversion kits. In fact we've already insured one. It was built with a DIY kit that the chap bought off ebay to convert his own motor!"
The Honda Clarity was on show at the British International Motor Show in July 2008 so Flux expects to get a lot more calls from people wanting to insure hydrogen-powered cars.
"Although we have insured this one, I'd advise caution when dealing with kits," warns Bucke. "Some tend to be a bit unstable but professional factory-built kits properly installed should be fine.
"As for cost, we've found they don't cost much more than a regular car to insure. We expect the premiums to be only about 5% higher."
Adrian Flux aims to offer cheaper car insurance and has a huge range of policies for the motoring enthusiast. For details contact the Adrian Flux quote line on 0800 505 3000, email the company at quotes @ adrianflux.co.uk, or see the Flux homepage on http://www.adrianflux.co.uk
PRESS ENQUIRIES:
Hydrogen-powered cars.doc– Aug-08
Toni Turner or Alison Haynes at The Publicity Works
Tel: 01263 761000 Email: flux @ publicityworks.biz
Gerry Bucke of Adrian Flux Insurance Services: 0800 505 3000
###