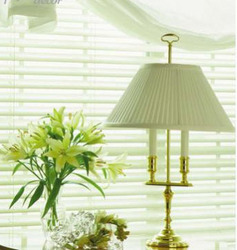 Our site is designed to demonstrate to a customer that they can make their blind or shade purchase online and easily
Atlanta, GA (PRWEB) August 11, 2008
Payless Décor LLC announces a redesign of PaylessDecor.com that should enlighten customers who feel they're in the dark about home décor. In addition to an easy-to-navigate showroom, the discount window treatment retailer offers its online shoppers free samples and photo galleries that illustrate design ideas for window treatments.
According to Payless Décor Chief Executive Officer Seth Roseman, individuals with little knowledge about how to pick window treatments should find the updated site helpful.
"Our site is designed to demonstrate to a customer that they can make their blind or shade purchase online and easily," explained Payless Décor CEO Seth Roseman. "With our new site design, our intention is to create a pleasant purchase process that drives an excellent overall experience - from browsing the products to ordering the free samples, all the way through installation."
Products sold at PaylessDecor.com include contemporary kitchen and bathroom window treatments, bamboo blinds and bay window drapery treatments, among dozens of other types of decor. Roller shades for windows are gaining in popularity among Payless Décor customers, and the company recently added rugs to its long list of products, said Roseman.
Site visitors can view a variety of treatment styles in Payless Décor's photo galleries to gather design ideas. For window treatments in non-standard dimensions, or ones that must fit unusual spaces, customization options are also available.
All customers receive free shipping on their orders and the support of 24-hour customer service. "And by purchasing online, they not only get an excellent product, but also receive a terrific price," Roseman added, referring to the online store's 110 percent guarantee and discounts on large orders.
"Our focus is providing an excellent product at a reasonable price," Roseman said.
For energy-conscious home owners interested in window treatments that keep light out and insulate the home from heat, PaylessDecor.com also features sun blocking window shades such as heat-absorbing cordless cellular shades and lined curtains and drapes.
Professional or amateur home decorators who wish to keep up with what's new in window treatments can get assistance on how to pick window treatments. For more information visit the redesigned showroom at PaylessDecor.com.
About Payless Décor LLC:
Payless Décor LLC, a leading Internet retailer of stunning window treatments, was founded in 2002 to provide home owners and decorators with inexpensive window treatments. Products in the company's online store, PaylessDecor.com, include window blinds, shades, drapes, window curtains and easy-to-navigate photo galleries that inspire design ideas for window treatments.
###