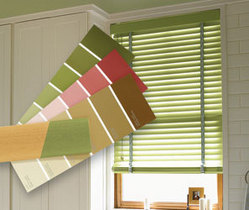 Corona, California (PRWEB) August 15, 2008
There's nothing "off the shelf" about a custom window treatment from Smith+Noble, but now this leading retailer takes it one step further: they'll be happy to create Wood Blinds that perfectly match your shelf … or wall… or anything else you desire!
During their 20+ year history, Smith+Noble has consistently been an innovator and industry leader in offering new products to suit the needs and lifestyles of America's homeowners, including their famous Natural Woven Shades, energy-saving Honeycomb and Solar Shades, budget-wise Roller and Pleated Shades, plus numerous styles of Fabric Shades, Panels and Drapery available in over 1000 fabric choices.
But their new Custom Color Match program for Wood Blinds marks the first time consumers are able to literally create their own product, in absolutely any color they can imagine. Interesed? Here's how it works:

First call Smith+Noble Customer Service at 800.248.8888 to receive a reference number for the color sample they wish to submit
Any paint color or stain finish is acceptable; either an actual sample or a paint chip or stain card with a color ID#
Sample submitted must be at least one square inch in size
Sample and reference number should be sent to:
Smith+Noble
Custom Wood Blind Color Match
1181 California Avenue
Corona, CA 92881

After approximately five business days processing time, Smith+Noble will send out three sample swatches for your approval; keep one for yourself and return the other two to Smith+Noble. You'll also receive a form to fill out that must be returned along with the samples.
Once your approved sample is received back at Smith+Noble, your order will be processed and your new Wood Blinds will be crafted in approximately 10 business days.
Any of Smith+Noble's three slat sizes of Wood Blinds are available in this program. There is a $40 fee for each sample you submit, but that fee will be applied to your product order.
Consumers who do not need a specific Color Match will still find plenty of options to choose from in Smith+Noble Wood Blinds. They're available in 27 painted or stained finishes, including six varieties of white and half a dozen exclusive aged, weathered and distressed finishes. Wood Blinds may be selected in either 1 1/8", 2" or 2 1/2" slat sizes, to accommodate windows of almost any size or proportion. A variety of upgrades, including decorative fabric ladder tapes and wood valances, allow for even more customization.
Where to Find Them?
The products mentioned in this article, plus dozens of other custom window treatment styles in thousands of material choices, are available exclusively through the Smith+Noble catalog and online at smithnoble.com. Free Swatches of any fabric, shade material, finish or decorative trim make it easy to experience Smith+Noble quality before buying. Purchasing by phone, or securely online, is also fast and worry-free, since every Smith+Noble custom-made product is backed by a Satisfaction Guarantee. For a free catalog subscription, call 1.800.248.8888 or click the "catalog request" link on the smithnoble.com homepage.
About Smith+Noble
Founded in 1987, Smith+Noble's corporate offices, customer support center and 200+ employees are located an hour east of Los Angeles in Corona, California. In the course of over 20 years in business Smith+Noble has custom-crafted over eight million window treatments for America's finest homes and most discerning home owners. The company constantly searches the globe for innovative products and materials, and backs all sales with a Satisfaction Guarantee that's unique in the realm of custom-made products. To assist consumers in selecting the perfect window treatments for their needs, Smith+Noble customer service representatives receive extensive training on the style, operation and installation of every product. Smith+Noble is an operating business of IAC (Nasdaq: IACI).
# # #