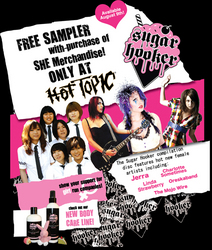 F**k You I'm Beautiful
Los Angeles, CA (PRWEB) August 14, 2008
Sugar Hooker Entertainment (SHE), the multi-platform lifestyle brand for girls, releases its first music compilation titled "Pirate This! Volume One."
The compilation, which includes songs from Jerra, Linda Strawberry, Charlotte Sometimes, Mojo Wire, and Oreskaband, is free in select Hot Topic stores with purchase of any Sugar Hooker item during the month of August.
The compilation came about when SHE founder and CEO Jerra Spence met Charlotte of Charlotte Sometimes at the Vans Warped Tour in June 2008. Spence recognized the importance of showing support for female artists by using her company's clothing success in Hot Topic stores as a vehicle for promoting/distributing her fellow female musicians.
"We aren't all talk," says Spence. "We are a true girl run company in support of girls in the entertainment business and fashion. We are genuine about our beliefs; we aren't some faceless company. When you buy a Sugar Hooker item, you are supporting ventures like the "Pirate This!" music compilation. You're supporting girls."
And like the SHE clothing line, the music doesn't skimp on quality and value. After all, the compilation is free. Go to http://www.sugarhooker.com for a complete store list to find where you can pick up a free compilation of tracks from these hot, new female artists.
Go to Hot Topic stores now to receive your free music from SHE.
Track Listing:
1.) Say It Again - Jerra
2.) Stupid - Jerra
Sugar Hooker Entertainment
3.) Thieves - Linda Strawberry
4.) F**ck You I'm Beautiful - Linda Strawberry
Courtesy of Lovely Chaos Records
5.) Losing Sleep (Acoustic) - Charlotte Sometimes
6.) How I Could Just Kill A Man - Charlotte Sometimes
Courtesy of Geffen
7.) Roll (Demo) - The Mojo Wire
8.) Holywood (Demo) - The Mojo Wire
9.) "Yeah!! Ska Dance" - Oreskaband
Courtesy of Sony Music Associated Records Inc
About the artists:
Jerra - Hailing from Los Angeles and backed by members from Suicidal Tendencies, Jerra captures a unique songwriter-based punk style that's musical, aggressive and intense. With three years of touring including the Vans Warped Tour in 2005 and 2006, the guitarist/singer/songwriter went back to her songwriting roots by writing relentlessly for the four years since her self-released debut album, "Play Like A Girl." Featured on the SHE compilation "Pirate This! Volume 1" are two songs from her upcoming fall release entitled "Whatevers."
For more information: http://www.jerra.com, http://www.sugarhooker.com/jerra
Linda Strawberry- Linda Strawberry may be the nom de plume of a Los Angeles singer, but Strawberry is a true renaissance artist who is known as much for touring with Billy Corgan, as her visual arts and graphic design, her performance on piano, her recording engineering, and her online celebrity. In the spirit of the times, she started her own DIY independent label called "Lovely Chaos Records." The Lost Record EP includes six songs. Two tracks from this EP, "F**k You I'm Beautiful" and "Thieves," can be heard on the SHE compilation. Linda Strawberry's chaotic, rebellious, and intelligent methods for making music and promoting to her loyal online following of over 100,000 people are anything but orthodox, yet this striking artist is proving that it is perhaps her model that the music industry should be considering.
For more information: http://www.lindastrawberry.com, http://www.myspace.com/strawberry
Charlotte Sometimes - This 20 year-old New Jersey based singer/songwriter is the thinking girl's pop artist. While her moniker may refer to a kid's book character (Penelope Farmer's Charlotte Sometimes), the singer's real name is Jessica Charlotte Poland, and the themes explored on her first album are anything but childish. Full of contradictions in content as well as musically drifting jazz vocals over tight pop beats, Charlotte Sometimes doesn't shy away from taking a stance on feminism, and to top it off, she does it with femininity. Catch Charlotte Sometimes live as she finishes her last week on Vans Warped Tour, and get caught in her web.
For more information: http://www.charlottesometimesmusic.com
Mojo Wire - Reigning from Philly, East Los, Echo Park and Garden Grove, CA, the Mojo Wire's name comes from a Hunter S. Thompson reference. Fronted by Monique Powell, former lead singer of 90's KROQ sweethearts, "Save Ferris," the MOJO WIRE is what would happen if Tina Turner were impregnated by the MC5 and Iggy Pop - sheer genius. We've been waiting for years to see what powerhouse Powell will do, and here's a tiny taste of the brand new, never before heard demo. Brace yourself.
For more information: http://www.mojowiremusic.com
Oreskaband - The high energy Japanese ska-rock girl sextet Oreskaband, from Osaka, Japan, will be one of the headlining acts on the Vans Warped Tour 2008. The band is scheduled to play all 46 dates on the tour, becoming the first Japanese band to accomplish this. Oreskaband certainly has its hands full with headlining for the Vans Warped Tour and with releasing its new album. 2008 is shaping up to be another eventful year in the very young and bright careers of the six girls from Osaka, Japan.
For more information : http://www.myspace.com/oreskabandus
Sugar Hooker Entertainment (SHE) is an all girl run brand in support of girl culture and empowerment.
Please visit : http://www.sugarhooker.com/piratethis
Contact: Sugar Hooker Entertainment ; 323.436.0561
###