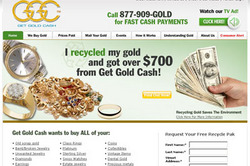 We are thrilled that Circus Circus Reno has invited us to help them in their fundraising efforts
Owings Mills, MD (PRWEB) August 10, 2008
Get Gold Cash, Inc., a national gold recycler famous for its gold buying Roadshow events, announces a special charity fundraiser to be held the weekend of August 22-24 from 10 am to 10 pm at Circus Circus Reno in the Circus Reno Casino Ballroom, an MGM Mirage Property.
During the event, Circus Circus employees, hotel guests and casino patrons will be invited to sell old jewelry that is broken or unwanted. At the end of the event, Get Gold Cash will donate a portion of their recycling profits to the MGM Mirage VOICE Foundation, which helps fund charities in local communities.
"We are thrilled that Circus Circus Reno has invited us to help them in their fundraising efforts," said Get Gold Cash president Craig Nusinov.
This event is part of the company's "Get Gold Cash Recycle Gold for Charity" that gives them the chance to be part of the solution while it offers casino customers, employees and attendees the opportunity to sell unwanted precious metals and sell old jewelry for cash.
Though the program is less than a year old, it has achieved noteworthy success helping fundraising efforts for corporations, schools, hospitals, and many other charitable organizations.
In fact, since its inception in May 2007, the program has donated thousands of charitable dollars for companies as diverse as Lockheed Martin, Provident Bank and Johns Hopkins Children's Center.
"It's a great program because it fills three needs at once," Nusinov said. "First, it gives employees and patrons of organizations a chance to sell old jewelry, getting instant cash for unwanted, outdated or broken items that have been collecting dust in a box or drawer. Second, it recycles precious metals, which helps alleviate the need for further mining and damage to the environment."
"Third, and foremost," Nusinov concludes, "it really gives companies a unique way to raise thousands of dollars for a great cause. We've had an overwhelming positive response from this program so far."
About The MGM Mirage Voice Foundation:
The MGM Mirage Voice Foundation helps build stronger communities by focusing employee charitable contributions to non-profit agencies and community organizations. Since its inception in 2002, the Voice Foundation, through MGM Mirage employee donations, has raised more than $24 million, uplifting the quality of life for more than 300,000 people in our local communities. 100% of every dollar pledged goes directly to the charitable organization or cause designated.
To learn more about the how to sell gold jewelry or details on this and other upcoming events, visit GetGoldCash.com.
About Get Gold Cash, Inc.:
Located in Baltimore, MD and serving customers in all 50 states, gold buyer Get Gold Cash offers customers cash for gold jewelry, giving them the chance to make money with precious metals. Boasting four generations of experience in the precious metals business, Get Gold Cash provides the simple Mail Recycle Pak system for an easy way to recycle gold jewelry and hosts the Get Gold Cash Roadshow and Recycle Gold for Charity events.
###