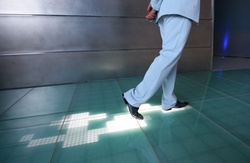 New York, NY (PRWEB) August 12, 2008
Sensacell Corporation announces its contribution to the 2008 World Expo, themed "Water and Sustainable Development."
The floor graces the entrance to the Spain Pavilion, "Comunitat Valenciana." Visitors walking across the floor leave behind luminous footprints, a striking visual metaphor for the "footprint" created by the actions of mankind in his environment.
The 250 Square foot (25 square meter) floor system consists of over 1000 Sensacell HSI64-36-W interactive modules, each module contains capacitive sensors and a LED lighting system, the capacitive sensors allows the floor to detect and respond to visitors footsteps right through the 20 mm thick architectural glass that forms the surface of the floor.
The floor will be available for viewing for the duration of the Expo- June 14 through September 14, 2008
Sensacell is a privately held company founded in 2005 that manufactures interactive architectural technology.
###