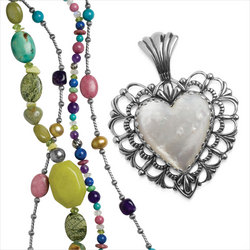 We're (Relios) very committed to the idea that in order to be successful, all stakeholders must be satisfied: employees, customers, vendors, and shareholders. We focus a lot on employee team building
Albuquerque, NM (Vocus) August 12, 2008
Relios Inc., designer and manufacturer of contemporary southwestern sterling silver jewelry, is celebrating 33 years in business this August. The company, which now employs over 150 people, started with humble beginnings as the brainchild of Relios President Bill Pollack who began as an independent artisan making jewelry out of his garage in Albuquerque, New Mexico in the early 1970's.
"I started in lapidary, sawing, grinding and polishing stone and shell", says Pollack who had graduated from the University of New Mexico. "I was always amazed at how beautiful the materials were, and the fact that they came straight out of the earth or bottom of the sea. I still get that feeling today with our new designs. Combining the art of jewelry design and the technology involved with the production process is still very challenging and rewarding – even 30-plus years later."
In 1978 Pollack took Relios to new heights landing a national contract with J. C. Penney Co. for a line of sterling silver jewelry, which lasted a decade. From there, the company enjoyed continued growth and success becoming a major supplier for the QVC television network in 1987. And within just the last year, Relios outgrew its 11,000-square-foot factory and moved into a new 25,000-square-foot factory in northeast Albuquerque, allowing the company to double its production capacity and expand services to customers.
"While many U.S. jewelry manufacturers have found it more profitable to farm work out to other countries, we've (Relios) chosen to stay and uphold our 'Made in the USA' value system, and it's paid off", says Pollack. "Of course, there are certain concessions we've had to make - there are hardly any stone cutters left in the U.S., so many of our stones and beads are sourced worldwide. But everything else is done right here at our Albuquerque factory – from design, modeling the original, and casting, to stone setting and assembly - all right here under one roof. It helps us serve our customers better to have that kind of quality control".
Pollack and his wife, Lead Designer and Vice President Carolyn Pollack, had their most profitable year yet in 2007, up nearly 15-percent from the previous year.
"Consistent customer service has gotten us where we are today – and that's not all", says Pollack. "We're (Relios) very committed to the idea that in order to be successful, all stakeholders must be satisfied: employees, customers, vendors, and shareholders. We focus a lot on employee team building", he says. "And the end result is a higher level of participation, enthusiasm and pride in satisfying its customers. It really is based on a strong set of principles and a commitment to continuous improvement".
Relios produces a full line, from silver rings and drop earrings, to more traditional southwestern inlay jewelry. Relios' Fall designer jewelry collections will be available to retailers beginning August 15th, and to consumers beginning on September 3rd.
About Relios, Inc.
Relios Jewelry designs and manufactures more than 100 sterling silver jewelry designs per season in Albuquerque, New Mexico, USA. Their moderate to upper price point jewelry can be found online at http://www.ReliosWholesale.com and http://www.ReliosJewelry.com. Jewelry by Relios is made from only natural stones and high quality recycled sterling silver right here in the USA.
###