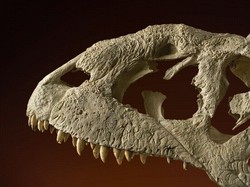 Our old finance program was not built for a nonprofit, making our fund accounting practices extremely tedious. Now, our staff will be able to access data for a real-time view of the Museum's finances and operations
Charleston, SC (Vocus) August 11, 2008
Blackbaud, Inc. (Nasdaq: BLKB), announced today that The Field Museum will use The Patron Edge® for ticketing and The Financial Edge™ for financial management.
The Field Museum, located in Chicago, is regarded as one the finest natural history museums in the world and attracts more than 1.3 million visitors annually. When the Museum was faced with a costly and resource-consuming conversion with its legacy system, staff decided to research other solutions. "What we found in Blackbaud was a
responsive, dedicated team and are confident that they will be a sustainable partner," said J.W. Croft, The Field Museum's executive vice president.
The partnership between The Field Museum and Blackbaud began in 1990 when the development staff selected The Raiser's Edge® for fundraising management. Pleased with the level of support and the performance of the technology, the Museum leadership recently chose to expand the relationship with Blackbaud to help improve operational efficiency, financial administration, ticketing capabilities and business intelligence through a unified technology platform with real-time reporting capabilities.
"Our old finance program was not built for a nonprofit, making our fund accounting practices extremely tedious. Now, our staff will be able to access data for a real-time view of the Museum's finances and operations," said Croft. "Blackbaud solutions will enable us to demonstrate organizational effectiveness to our supporters and create a more meaningful experience for our patrons. Just as we are a leading museum in renowned exhibits and research, it is our strategic goal to be a leader in operations and technology. With Blackbaud, we will achieve these goals."
"Sustainability is at the heart of this partnership," said Chris Bilbro, Blackbaud's director of arts and cultural solutions. "We are dedicated to the Museum's long-term success and to helping improve its overall operations so that donors and patrons reap the benefits. "With more than 25 years of experience, Blackbaud has partnered with over 1,500 arts and cultural organizations worldwide by providing solutions that help them meet their unique institutional goals in development, finance, and retail departments; visitors' and admissions' offices; and box offices. For more information, visit http://www.blackbaud.com/artsandcultural.
About the Field Museum of Natural History
The Field Museum, founded in 1893, is one of the world's premier natural history museums, housing more than 23 million specimens. It is also a major center for scientific research, with a presence in 64 countries and more than 200 scientists working around the world in anthropology, botany, conservation, cultural understanding, geology and zoology. For more information, visit http://www.fieldmuseum.org
About Blackbaud
Blackbaud is the leading global provider of software and services designed specifically for nonprofit organizations, enabling them to improve operational efficiency, build strong relationships, and raise more money to support their missions. Approximately 22,000 organizations -- including University of Arizona Foundation, American Red Cross, Cancer Research UK, The Taft School, Lincoln Center, InTouch Ministries, Tulsa Community Foundation, Ursinus College, Earthjustice, International Fund for Animal Welfare, and the WGBH Educational Foundation -- use one or more of Blackbaud products and services for fundraising, constituent relationship management, financial management, website management, direct marketing, education administration, ticketing, business intelligence, prospect research, consulting, and analytics. Since 1981, Blackbaud's sole focus and expertise has been partnering with nonprofits and providing them the solutions they need to make a difference in their local communities and worldwide. Headquartered in the United States, Blackbaud also has operations in Canada, the United Kingdom, and Australia. For more information, visit http://www.blackbaud.com.
Media Contacts:
Melanie Milonas
Blackbaud, Inc.
843.216.6200 x3307
melanie.milonas@blackbaud.com
Nancy O'Shea
The Field Museum
312.665.7103
media@fieldmuseum.org
Source: Blackbaud
Forward-looking Statements
Except for historical information, all of the statements, expectations, and assumptions contained in this news release are forward-looking statements that involve a number of risks and uncertainties. Although Blackbaud attempts to be accurate in making these forward-looking statements, it is possible that future circumstances might differ from the assumptions on which such statements are based. In addition, other important factors that could cause results to differ materially include the following: risks related to the expected financial or other benefits of the recent Kintera acquisition; uncertainty regarding increased business and renewals from existing customers; continued success in sales growth; general economic risks; management of integration of acquired companies and other risks associated with acquisitions, including the recent acquisition of Kintera, Inc.; risk associated with successful implementation of multiple integrated software products; uncertainty regarding increased business and renewals from existing customers; continued success in sales growth; general economic risks; the ability to attract and retain key personnel; risks related to our dividend policy and share repurchase program, including potential limitations on our ability to grow and the possibility that we might discontinue payment of dividends; risks relating to restrictions imposed by the credit facility; risks associated with management of growth; lengthy sales and implementation cycles, particularly in larger organizations; technological changes that make our products and services less competitive; and the other risk factors set forth from time to time in the SEC filings for Blackbaud, copies of which are available free of charge at the SEC's website at http://www.sec.gov upon request from Blackbaud's investor relations department. All Blackbaud product names appearing herein are trademarks or registered trademarks of Blackbaud, Inc.
###