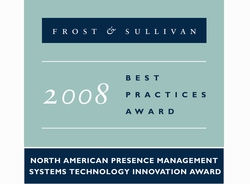 Esna's technical superiority and its ability to consistently innovate to meet enterprise demands with the help of its presence platform, Office-LinX, makes the company the worthy recipient of the 2008 Frost and Sullivan Technology Innovation Award
Toronto, ON (PRWEB) August 13, 2008
esna technologies inc. announced today that Frost & Sullivan has awarded the company's Telephony Office-LinX unified communications platform the 2008 Frost & Sullivan North American Technology Innovation Award in the field of presence management systems
Telephony Office-LinX is an enterprise unified communications platform designed to work with an organization's existing infrastructure and application. The unique and innovative Telephony Office-LinX program allows organizations to take advantage of all the cost savings and productivity enhancements that unified communications delivers, with minimal change to their existing environment and core business processes.
By unifying enterprise mobility, rich presence and unified messaging under a single solution, organizations of any size can enable unified communications into their organization and change the way their business communicates with simple easy access to presence aware all their core business applications such as Microsoft OutlookTM, GoogleTM applications, saleforce.com and other solutions and services.
"The 2008 Frost & Sullivan North American Technology Innovation Award further validates our leadership in the presence and unified communication space for enterprises," notes Davide Petramala, Vice President of Marketing & Sales at esna technologies. "Telephony Office-LinX is the only platform in the industry that offers interoperability to any phone system, any mobile device, any email/groupware solution, business application and any operating system. It truly is designed to meet the needs of an actual business that has fragmented pieces of architecture, devices and application across their organization."
"Esna's technical superiority and its ability to consistently innovate to meet enterprise demands with the help of its presence platform, Office-LinX, makes the company the worthy recipient of the 2008 Frost and Sullivan Technology Innovation Award," explains Frost & Sullivan Industry Analyst S. Guarav.
Frost & Sullivan's Technology Innovation Award is bestowed upon a company (or individual) that has carried out new research which results in innovation(s) that have or are expected to bring significant contributions to the industry in terms of adoption, change, and competitive posture. This award recognizes the quality and depth of a company's research and development program as well as the vision and risk-taking that enabled it to undertake such an endeavor.
The esnatech Telephony Office-LinX platform is tightly integrated with Microsoft Windows, MS Exchange, IBM Lotus Domino, Novell GroupWise, Google™ Apps, Blackberry®, Nokia devices and MS Windows mobile devices. The gateway server can be administered directly from an organization's Microsoft Management Console or through Terminal Services over the web. Users can be managed through Active Directory and Group Policy.
About esna technologies inc.
Founded in 1989, Esna technologies mission is to provide communication solutions that are simply the best way to communicate! Esnatech solutions empower organizations by giving them the flexibility to conduct business at any time, from anywhere, so they can manage the information they need, when they need it. Esnatech markets and distributes their products through OEM and VAR partners in 28 countries worldwide. http://www.esnatech.com
About Frost & Sullivan
Frost & Sullivan, the Growth Partnership Company, partners with clients to accelerate their growth. The company's TEAM Research, Growth Consulting and Growth Team Membership™ empower clients to create a growth-focused culture that generates, evaluates and implements effective growth strategies. Frost & Sullivan employs over 45 years of experience in partnering with Global 1000 companies, emerging businesses and the investment community from more than 30 offices on six continents. For more information about Frost & Sullivan's Growth Partnerships, visit http://www.awards.frost.com.
esna technologies inc. Contact:
Davide Petramala
905-707-9700, ext. 314
davidep(at)esna.com
Frost & Sullivan Contact:
Jake Wengroff
210-247-3806
Jake.wengroff(at)frost.com
###