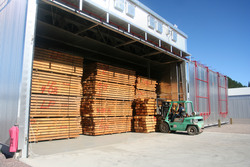 The new products offerings will continue to increase sales opportunities for years to come
Wisconsin Rapids, WI (PRWEB) August 12, 2008
Premier log home manufacturer Golden Eagle Log Homes has announced significant facilities expansions at their Wisconsin Rapids, WI mill. Tod Parmeter, Owner and Chief Operations Officer, reports this expansion as an additional 20,000 square foot of manufacturing facilities, another dry kiln and over 14,000 additional square feet of warehousing. Adding six more major pieces of production equipment has more than doubled what Golden Eagle could previously offer for log and corner styles. Parmeter says, "Our customers deserve a lot of choices, now we have something for everyone."
Even as media reports persist about the decline of the housing market, new log home construction continues to increase, particularly at Golden Eagle Log Homes, who offer an unprecedented level of options for their log and hybrid packages. The Wisconsin Rapids, WI facility also includes a home design center, which provides customers with deluxe materials options for doors, windows, hardware, kitchen and bath supplies. In addition to the countless custom home plans that Golden Eagle can create, they also offer a variety of existing floor plans ranging from 1,200 square feet to 7,000 square feet.
"The new products offerings will continue to increase sales opportunities for years to come," says Parmeter, "And in preparation of more sales, we decided to add more drying capability and in turn, more warehousing space. With the increased options we can now provide, we wanted to ensure that our customer response time wasn't affected - thus we needed to expand all parts of the facility." The expansion also brings with it efficiencies in labor, as some processes have been reduced from ten minutes to three minutes, and also increased automation within the facility.
In addition to labor efficiencies, Golden Eagle Log Homes also prides themselves on the eco-efficiencies of log homes. Unlike stick- built homes, which are built on site of the property, log homes are manufactured in a facility, where efficiency and accuracy can be optimally maintained. Once the manufacturing is complete, the home is simply shipped to the site, where it's quickly assembled. This process reduces the carbon footprint of a home build significantly, particularly when compared to that of typical stick built house. There's less waste, due to the efficient, climate controlled manufacturing environment, there's less pollution and property impact, since heavy machinery isn't required on-site for months at a time.
For more information on Golden Eagle Log Homes, their expanded facility, or their upcoming Wine Tasting event to support Evening of Angels cancer charity on September 20, please contact Golden Eagle Log Homes at 1-800-270-5025, or visit them on the web at http://www.goldeneagleloghomes.com
To see photos of Golden Eagle's amazing homes, contact Scott Rouleau at 860-677-0560, or via email at s.rouleau(at)sbcglobal.net.
###