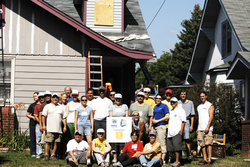 We are fortunate to have great people who are talented and understand what it means to work with clients in collaboration, to listen to their needs and help them achieve their goals
Minneapolis (PRWEB) August 13, 2008
Minneapolis-based Cuningham Group Architecture, P.A. Cuningham Group, known for its pioneering "green" designs, celebrates 40 years of award-winning design excellence in 2008. Cuningham Group commemorated the milestone on July 18th by bringing all 200-plus employees from around the country to Minneapolis to team with Twin Cities Habitat for Humanity on its program, "A Brush with Kindness," designed to revitalize and restore Minneapolis neighborhoods.
A Cuningham Group team working for Habitat for Humanity.
Additional anniversary programs included team-building events, a 40-year retrospective and vision for the future as well as the introduction of "Our Clients, Our Projects, Our Lives," a mission statement reaffirming Cuningham Group's commitment to helping revitalize the planet through environmentally responsible design.
Cuningham Group founder, John Cuningham, FAIA, NCARB, LEED® A.P., has dedicated his career to progressive and sustainable projects worldwide. In 1968, Cuningham established the firm's first headquarters in his house. By 1971, Cuningham Group had already distinguished itself by winning its first award. Cuningham recognized and emphasized the importance of sustainability from the outset, making him a pioneer in the movement. This focus on green design has remained a constant throughout the firm's development as it has offered architecture, interior design, urban design and planning services to the housing/mixed-use, retail/restaurant, hospitality, entertainment, education, civic, corporate and worship markets. Four decades later, Cuningham Group has earned innumerable awards and respect as one of the most significant architecture firms in the country.
"I've always felt that people were our greatest assets," said Cuningham. "They're our assets both because of their skills and passions, but also because we believe in collaborating. We work together to create environments that sustain our communities, enhance our lives, create beauty and add value."
40 Years of Award-Winning Design
Cuningham Group has won top design and planning awards since 1971. Awards have been bestowed from organizations as diverse as the fields they represent, including the Minnesota Environmental Initiative, U.S. Department of Housing and Urban Development, American Institute of Architects Minnesota, Interfaith Forum on Religion, Art and Architecture, American Association of School Administrators, Urban Land Institute, The League of Minnesota Cities, American Zoo and Aquarium Association, Themed Entertainment Association, and Council for Educational Facility Planners International, among many others.
"We are fortunate to have great people who are talented and understand what it means to work with clients in collaboration, to listen to their needs and help them achieve their goals," said Timothy Dufault, AIA, LEED® A.P., who was named the company's president in January 2007.
Sustainability
Cuningham Group is committed to monitoring and reducing the global footprint of humans and helping to reach carbon neutrality. Cuningham Group's Minneapolis office is located in a 120-year-old building that was originally the home of a mattress factory - part of the historic building renovation wave in the late 1970s and 1980s which became a way of recycling and reusing buildings. Presently, the firm is studying how to cut energy use in the building by 40% and is designing its new Los Angeles location office to be Leadership in Energy and Environmental Design (LEED®) certified.
The firm's Green committee was formed almost 15 years ago when it performed its first environmental footprinting exercise in 1994, implementing plans to reduce the firm's corporate and personal impact on the planet. Cuningham Group is also an active member in the clean earth-focused 2030 Challenge which asks the global architecture and building communities to adopt specific measures that will help slow the growth rate of global greenhouse gas (GHG) emissions and then reverse it over the next ten years.
"John Cuningham chartered this course for the organization when he founded it in 1968," said John Quiter, AIA, NCARB, LEED® A.P., Chairman of the Board. "It is rewarding to see how far we have been able to take it."
At all levels in the firm, Cuningham Group employees are involved as leaders in their communities and in the architecture profession. At the organizational level, Cuningham Group is a member of the U.S. Green Building Council and a founding member of the Los Angeles Green Building Council. Two members of Cuningham Group's Environmental Resources Team were chosen to write the first National Council of Architectural Registration Boards (NCARB) monograph on sustainable design in 1997. Currently, architectural Intern, Amelia Doyle, is serving as the National Chairperson of Emerging Green Builders organization.
In 2008, Cuningham Group is set to unveil several "green" project designs, including three buildings being considered for LEED® silver certification.
"As we look to the future, we continue to strive to be knowledgeable resources to our clients," said Cuningham. "We will collaborate with them to make holistic green design decisions that not only positively impact the planet and the communities in which we build but that provide other returns on their investment."
About Cuningham Group Architecture, P.A.
Cuningham Group transcends tradition with architecture, interior design, urban design and planning services for a diverse mix of client and project types. Our client-centered, collaborative approach incorporates trend-setting architecture and environmental responsiveness to create projects that weave seamlessly into the urban fabric. Founded in 1968, the firm is consistently recognized as a leader in the field of architecture and has grown to over 200 employees in offices in Minneapolis, Los Angeles, Las Vegas, Biloxi, Bakersfield, Madrid and Seoul. For more information, please visit . Cuningham Group.
###