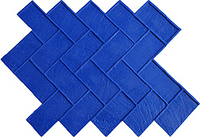 Yucaipa, CA (PRWEB) August 13, 2008
Concrete stamps, no doubt, are being applied on residential and commercial projects today more than ever before. Their rise in popularity can be attributed mainly to increased product availability and improvements over the years. The Concrete Network offers updated articles covering everything there is to know about choosing and purchasing the perfect concrete stamp through it's online buyer's guide and section updates.
With today's innovations in concrete products, specifically concrete stamps, homeowners and contractors alike, are enjoying the many benefits that come with using such materials. There are a growing number of options in concrete stamp patterns now available. Major product lines manufacture hundreds of styles that include a range of stone, slate, and brick patterns to custom and specialty stamps.
Another major benefit contributing to the appeal of this product is that today's stamps produce very realistic results. Most concrete stamps are made of durable polyurethane and are molded from the real materials they mimic, resulting in stunningly authentic textural effects. Many people can't tell the difference between stamped concrete and pricier paving materials such as natural stone, slate, or brick.
Stamps range from semi-rigid mats that flex slightly to conform to contours in the concrete to flex mats that can be bent to conform to slab edges or walls to ultra-pliable texturing skins with feathered edges that overlap to produce seamless texture without pattern lines. Also adding to the realism of stamped concrete is a broad range of integral and surface-applied coloring options that allow contractors to bring stamp patterns to life and precisely replicate the beauty of the materials they imitate.
When purchasing stamps for a particular project, it's important to purchase the right amount of stamps for the project and to choose a pattern that harmonizes with the setting of the home or office where the stamps will be applied. When in doubt, it's important to call several stamp manufacturers and ask them to explain what makes their tools superior to others. Also ask experienced stampers about the tools they prefer to use and why.
Read more about concrete products.
Established in 1999, The Concrete Network's purpose is to educate consumers, builders, and contractors on popular decorative concrete techniques, applications, and products. This includes concrete stains, equipment, sealers, tools, and materials. In 2007 The Concrete Network Website had over 11 million visitors researching decorative concrete.
The site excels at connecting contractors with concrete products suppliers through its Concrete Product Directory Concrete Products service. The service provides visitors with a list of decorative concrete manufacturers throughout the U.S. and Canada, as well as local decorative concrete supply stores.
Photos courtesy of Butterfield Color.
# # #