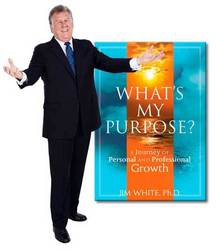 The movement encourages positive world change from the inside out rather than from the outside in. In my experience, that's the only lasting route to positive global change
Monterey, California (PRWEB) August 14, 2008
In his recent best-selling book, What's My Purpose? A Journey of Personal and Professional Growth, Dr. Jim White emphasizes the importance of meaning to well-being on the personal as well as global level. We are seeing this played out through the 29th Olympic Games...A stong sense of purpose, focus, commitment, and perseverance are all qualities driving the elite Olympic athletes. For the past 17 years, White's been working to instill a sense of purpose in individuals ranging from children to Fortune 500 CEO's.
According to White, purpose is something that exists innately within each person. It's a statement backed up by one of the world's most famous writers, psychiatrist Victor Frankl: "The meaning of our existence is not invented by ourselves, but rather detected."
Ever since Frankl famously declared the discovery of purpose and meaning to be paramount for individual happiness, the personal development movement has been full steam ahead. What's less well-known and more telling is that recent research backs up White's and Frankl's assertion and adds urgency to the mandate that each person find and live their purpose. One study, conducted at the University of Florida demonstrated that well-being, an absence of depression and a healthy attitude towards death all depend on a person's strong sense of purpose.
"The real key to contentment and satisfaction is finding a purpose in life," said U of F Institute on Aging researcher Monika Ardelt in a 2001 article published in the University of Florida News.
With research and 20th century wisdom backing him up, White launched a movement toward purpose last June on his blog, http://www.whatsmypurposeblog.com. The idea, according to White, is that if hundreds of millions of people are seeking and living their lives purpose, the ripples will have a noticeable impact on the well-being of the world.
"The movement encourages positive world change from the inside out rather than from the outside in. In my experience, that's the only lasting route to positive global change," White said. "That scientific studies are showing the personal benefits of finding one's life purpose should be all the impetus needed to encourage millions of people to commit to finding their lives' purpose."
White is inviting anyone interested in joining the growing community of purpose seekers to visit his blog, http://www.whatsmypurposeblog.com and post comments about their journey to purpose. In order to support purpose seekers, he's also offering a free question and answer teleseminar on Wednesday, August 20, 2008 at 5:00PM (Pacific) where participants can both ask questions and get live coaching on finding their purpose. To sign up, go to http://www.AskJimWhite.com.
Jim White is the founder of JL White International, Inc., a full service management consulting and leadership development organization dedicated to "Inspiring Excellence in People". For over 30 years, he has worked with organizations and individuals worldwide to help define and implement
###