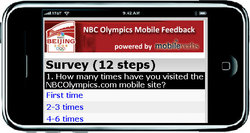 MobileVerbs is dramatically improving the sophistication, process, economics and efficiency of interactive mobile marketing
Fremont, CA (PRWEB) August 12, 2008
NBC Universal has deployed the on-demand mobile marketing solution from MobileVerbs Inc. to enable wireless market research capability in its Olympics WAP site. The WAP site visitors can click on a banner link to participate in currently active poll or survey from their cell phones. The survey results and visitor feedback is available to the research team in real-time in a hosted dashboard.
"MobileVerbs delivered a sleek survey platform tailored to the look and feel of the NBC Olympics mobile site," says Stephanie Fried, Director of Digital Primary Research at NBC Universal, "and we are very impressed with how this wireless research campaign was deployed with very little lead-time."
The NBC campaign response rate has exceeded all expectations, thereby validating the attractiveness of the mobile channel to reach out to the target users. The MobileVerbs solution places the promise of mobile marketing directly in the hands of the marketers.
"Such wireless market research is only one of the various interactive mobile marketing scenarios that have been automated in our platform," says Parmeet Chaddha, Founder and CEO of MobileVerbs Inc. "In a matter of minutes you can enable WAP sites, mobile catalogs, alert programs, polls, surveys, contests, shopping, coupons, advertising etc., with the market leading solution from MobileVerbs," adds Parmeet.
One of the key differentiators of the MobileVerbs platform is a Situational Relevance Engine that allows marketers to precisely target their campaigns to wireless users' current context. Also, the MobileVerbs solution provides all analytics and campaign performance results in real-time. All campaigns and interactive mobile programs are setup from a hosted campaign management tool, without any programming. The campaigns are delivered via email, SMS, MMS, WAP or Web.
"MobileVerbs is dramatically improving the sophistication, process, economics and efficiency of interactive mobile marketing," says Parmeet. "Marketers can launch a lot more than simple landing pages behind banner ads and, instead, can launch highly relevant, interactive and engaging mobile experience for their users while managing the entire lifecycle of multi-channel campaigns and programs."
MobileVerbs' mobile marketing solutions are available for digital marketing agencies, direct marketers, media brands, youth-focused retail brands and others.
Contact: Steve Mills (steve at mobileverbs dot com).
###