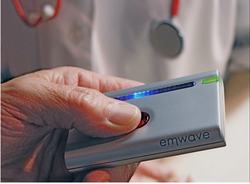 Boulder Creek, CA (PRWEB) August 12, 2008
Increasingly, emotional self-regulation is being recognized as a key factor in balanced health, recovery from illness and improved performance. More than ever before health professionals are aware of the reality that almost all illnesses are best addressed in both the body and the mind. For more than a decade HeartMath® technologies and best practices have assisted practitioners in achieving sustainable results with patients and clients in need of emotional self-regulation and an improved outlook. HeartMath will introduce their uniquely designed HeartMath® Interventions Certification Program at the 2008 American Psychological Association Annual Convention. The Program incorporates HeartMath's latest research on and understanding of the human emotional system, as well as their tools, protocols and the emWave® technologies.
The HeartMath Interventions Certification Program combines home study, interactive webinars and ongoing technical and clinical support for doctors, nurses, counselors, social workers, therapists and other healthcare professionals who want to incorporate HeartMath tools and technologies into their practice.
Based on over 17 years of peer-reviewed research, HeartMath's emWave technologies are unique solutions that focus on heart rhythm feedback. These technologies have become the stress intervention tool of choice for many health professionals. Patients and clients quickly learn self-regulation and emotional management skills that increase their internal awareness of when the stress response starts and how to shift out of stress the moment it arises.
Psychotherapists favor HeartMath's heart-rhythm-feedback technologies because they are scientifically validated components of a larger system of research-based solutions that help people effectively transform difficult and unwanted mental and emotional stressors into healthier attitudes and behaviors. The added attraction for therapists is that the emWave technologies are very affordable and offer a variety of user-friendly features.
The emWave Personal Stress Reliever® (PSR) puts the functionality of computer-based feedback devices into the palm of your hand. This convenient tool helps patients and clients reduce stress and increase vitality, mental clarity and emotional balance.
The emWave® PC Stress Relief System gives on-screen feedback in real time, allows the practitioner to save their patients' or clients' sessions so they can track their progress, and includes many additional features such as the Emotions Visualizer® and several entertaining video games that are powered by the user's ability to shift their emotional state. These features encourage patients and clients to practice social and emotional skills while they're building a new emotional baseline. Using emWave technology products helps them learn real-time stress solutions, promoting emotional self-regulation and encouraging a positive outlook. The emWave technologies have a high compliance rate and combine well with other therapies.
HeartMath's programs and technologies are being used in hundreds of hospitals, healthcare systems and clinics around the world. Thousands of nurses, doctors, administrators, rehabilitation and recreational therapists, psychologists, biofeedback practitioners and other health professionals have incorporated these unique tools and technologies into both their professional practice and their personal lives.
HeartMath has earned a global reputation for their innovative research, highly regarded programs and cutting-edge technologies. Their clients include some of the most esteemed leaders in healthcare, such as Duke Medicine, Boston Medical Center, Stanford Hospital, Mayo Health System, BlueCross BlueShield, the Gottman Institute, Sutter Health, Scripps Center for Integrative Medicine, Kaiser Permanente, and many other top medical centers and healthcare organizations around the world.
HeartMath invites the American Psychological Association Annual Convention attendees to stop by the HeartMath booth for a demonstration of the emWave Personal Stress Reliever and emWave PC Stress Relief System and for information about the soon-to-be-released emWave Mac. The conference will be held August 14-17 at the Boston Convention and Exhibition Center. HeartMath's booth is number 524 in Hall A. There they will be taking pre-orders for the emWave Mac. Attendees can also enter a drawing to win an emWave Personal Stress Reliever and pick up free gifts such as the "Eliminating Anger" and "Eliminating Anxiety" e-books.
About HeartMath®:
HeartMath LLC is a cutting-edge performance company providing a range of unique services, products, and technology to improve health and well-being, while dramatically reducing stress and boosting performance and productivity. For more than 17 years HeartMath clinical studies have demonstrated the critical link between emotions, heart function, and cognitive performance. HeartMath's compelling solutions for stress relief have been published in numerous peer-reviewed journals such as American Journal of Cardiology, Stress Medicine, Preventive Cardiology, Journal of the American College of Cardiology, Integrative Physiological and Behavioral Science and Alternative Therapies in Health and Medicine. HeartMath's organizational clients include Duke Medicine, Stanford Business School, Stanford Hospital, Mayo Health System, Blue Cross Blue Shield, Sutter Health, the Gottman Institute, Scripps Center for Integrative Medicine, Kaiser Permanente, BP, Cisco Systems, Boeing and the NASA Goddard Space Flight Center, as well as dozens of school systems and thousands of health professionals around the world.
###