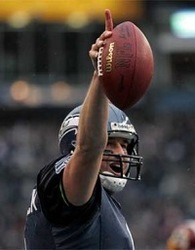 I'm trying not to get too excited
Seattle, WA (PRWEB) August 13, 2008
Seattletixx, Seattle's premier ticket broker, proudly dominates the market for hard-to-get tickets to the games in the upcoming '08 football season. Although their inventory includes tickets for local and national NFL games, as well as tickets for various concerts, theatre, and other events, Seattletixx continues to remain as the only distributor for the best tickets in town for Seahawks games all season long. The team's practices, which have been held in Kirkland, were closed to the public this year due to a limited amount of space, and should reopen starting next year. The Seahawks open their 2008 preseason with the Chicago Bears on Saturday August 16th, making their debut appearance in their home stadium, Qwest Field.
Last season, the Seahawks solidified their fourth-straight NFC West crown, and are predicted to maintain that status this season.
"Everyone is pumped about the Seahawks this year," says President of Seattletixx, Art Nicassio. "Expectations are high. This is Holmgren's final year, and you can't help but think something special is going to happen."
Other fans are feeling a unique mix of cautious optimism.
"I'm trying not to get too excited," says Seahawks fan and Seattletixx.com customer Dave Hess. "But I am really looking forward to the revamped running game and seeing some new faces on the field."
The Seahawks are scheduled to play a variety of teams in Seattle's Qwest Field this season including the Oakland Raiders, San Francisco 49ers, division rival the St. Louis Rams, Green Bay Packers, Philadelphia Eagles, Arizona Cardinals, and the Washington Redskins. Marquee games this season include the Seahawks with '07 Superbowl contender the New England Patriots. There is also a lot of hype over the Seahawks playing the New York Jets, and especially Brett Favre. While Seattletixx specializes in Seahawks games at Qwest field, tickets to see the Seahawks play away games in other cities against other teams such as the San Diego Chargers, Buffalo Bills, Miami Dolphins, and the Dallas Cowboys are also readily available. Tickets for other popular NFL games happening across the country are available for purchase as well.
About Seattletixx LLC:
Seattletixx, established in 2000, is a locally owned, independent ticket broker located in Downtown Seattle, Washington. Their office, located at 921 Elliot Avenue West, creates a comfortable environment for fans to stop by, look at their ticketing options, and talk some sports.
"We are first and foremost, sports enthusiasts. Getting fans into the games comes naturally to us. It's what we love to do," says Nicassio.
Tickets are available for purchase by phone and online at http://www.seattletixx.com. Their website features exclusive cutting edge 3D venue map technology, Visual Box Office TM, which gives customers an in-depth sense of the seats they are purchasing in local venues such as Qwest Field, Safeco Field, and the Key Arena. Their website also features functions that allow the customer to filter tickets by price, seating, and other options.
Seattletixx provides tickets to all major local and national music, sports, and entertainment events for all of your favorite teams and artists. Whether you're looking for Dallas Cowboy tickets, New York Giants tickets, New England Patriots tickets, or Seattle Seahawks tickets, Seattletixx is a one-stop shop for all your ticketing needs.
Contact:
Alex Lee, Director of Public Relations
Seattletixx, LLC
Phone: 888-987-8499
http://www.seattletixx.com
tickets @ seattletixx.com
###