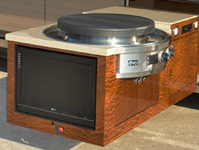 My personal experience using Evo products led me to the Affinity
Miami, OK (PRWEB) August 13, 2008
Newell Coach, the top-selling manufacturer of motorcoaches priced at $1 million and above, has added the Evo Affinity 25E Cook Top to its custom-built motorcoach slide-out entertainment island. The island also includes options such as an audio system, LCD flat-screen television, a refrigerator, and a countertop workspace.
The Affinity 25E's electronically controlled cooking surface eliminates the smoke and dangerous flare-ups of traditional, open-grate grills. Its separate inner and outer cooking zones allow temperatures to vary from the center to the outer edge. And its LCD display shows the set and actual temperatures at both zones. These features give cooks more flexibility and control.
"The Affinity creates an outdoor cooking space and social experience that compliments the lifestyle of Newell motorcoach owners perfectly," says Bob Shingler, CEO of Evo.
Newell Coach President, Karl Blade, couldn't offer a stronger endorsement of the product; he uses the Affinity 25E in his home kitchen.
"My personal experience using Evo products led me to the Affinity," says Blade. "With its high style, easy cleaning, cooking versatility, and electric heater, I knew it was perfect for our coaches and customers."
About Evo:
Since 2001 Evo has been setting the standard for high-quality cooking appliances that are used in major hotels, restaurants, supermarkets, dining halls, banquet facilities, and in the homes of food-conscious consumers. A privately held company, Evo specializes in the design, manufacture, and distribution of indoor and outdoor circular, flat-top cooking appliances that encourage and inspire social cooking. They are headquartered in Beaverton, Oregon. For more information, visit the Evo website or call: (866) 626-1802.
About Newell Coach:
Newell Coach Corporation is a premier designer and manufacturer of custom luxury motorcoaches. Newell motorcoaches feature state-of the art design and materials, custom furnishings and appliances, and full-time customer service and support. Newell Coach, which has been manufacturing custom coaches since 1967, is based in Miami, Oklahoma. For more information, visit Newell Coach or call 1-888-363-9355.
###