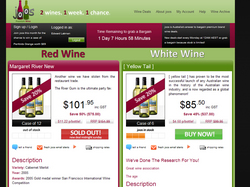 If the wine is poor quality, then it doesn't matter how cheap it is, people won't come back. Over 8% of our purchases have been return customers which is a clear indication that people are enjoying the wine as well as the savings
Melbourne, Victoria (PRWEB) August 14, 2008
joos is confident that their unique concept will become Australia's new wine craze and from their first month of operation, it looks like they just might be making some headway.
It's been almost one month since joos launched offering Australian wine drinkers a unique service for purchasing great wines direct on the internet.
The concept of hand picking 2 wines for people so that they don't have to sift through hundreds of different products is already proving very popular.
So why has the joos concept worked so well? There are a few reasons. Firstly, joos has been able to source great wine at low prices. The people behind joos have leveraged their experience in the wine industry and have been able to partner with wineries to offer their domestic and export labels via the joos website.
The export labels in particular have proven to be very popular. Australia exports a large amount of quality Australian wine to the USA, South America, UK and Europe.
Like with any export business, the wineries get stuck with cancelled orders, excess stock and end of bin runs. Most wineries produce extra cases for each order to allow for any mishaps but often the production run is perfect and there are cases left over that often are sold through the winery's cellar door.
The wine is excellent quality and the only difference it has with domestic products is the label on the bottle. Through joos' distribution agreements, the wine is offered through the site at bargain prices. Cheap wines are offered for between $6 to $8 per bottle and retail overseas and in Australia for $10 to $22 per bottle. That means joos' customers have been enjoying savings of between 25% to 80%.
"Many people don't realise but many of the Australian wines that they buy in the shops and online for $15 per bottle or more is the same wine that goes into many export products which retail for over $25 per bottle overseas. So much of the wine on offer with joos is premium quality, at huge savings. That has been a large factor in the early success of joos" says joos director Adam Jacobs.
Most people don't realise just how much wine Australia exports. In 2006-07, the domestic market accounted for 36 per cent of total sales of Australian wine by volume. Table wines made up 84.9 per cent of local wine consumption, sparkling wines accounted for 8.8 per cent and fortified wines for 3.8 per cent.
That means 64% of the great Aussie wine that is produced here is made for the export market.
It is their agreements with leading wineries that has enabled them to offer great wine to their customers. "If the wine is poor quality, then it doesn't matter how cheap it is, people won't come back. Over 8% of our purchases have been return customers which is a clear indication that people are enjoying the wine as well as the savings" says Jacobs.
An interesting point to note has been the amount of white wine and red being ordered by organisations and the hospitality trade.
"Many companies purchase several cases at a time. We were aiming at this market but were not focused on it at this stage so to see this area take of is positive. Companies are ordering wine for their staff as well as to send to customers. It makes a great gift. We have also seen many restaurants and bars approach us to purchase bulk amounts of stock. They have recognised the savings they can make on great wine without having to rely on wine auctions" says Jacobs.
joos has conducted some early surveys with their customers to gauge their user experiences and satisfaction with the service and products. Early signs have been very promising with 100% of people surveyed that purchased wine saying they were very satisfied with the usability of the website and in particular the quick and simple checkout process. They also said they were happy with the wine delivery and the time it took to arrive.
As well as the members who have purchased wine, joos has had several hundred people open an account or subscribe to weekly email alerts within the first month. Many of them were also surveyed and of the 20% that responded, the feedback was quite similar to that of the people who had made a purchase.
Jacobs also believes another reason for their early success is the quick delivery times from wineries and low delivery prices. Our customers are scattered all over the country and most people have received their wine within 2 days of purchase. Delivery is only $7.95 to most capital cities.
With wine consumption in Australia growing year on year, and a large shift toward purchasing wine online, joos is well poised to continue their impressive growth and service an increasingly savvy market who want good wine at the right price through a convenient medium.
###