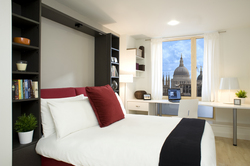 We have looked to introduce some really quirky pieces of furniture to create the wow factor for students. In the communal lounge of one of our properties we have even put in furniture featured in Daniel Craig's Bond film - Casino Royal!
London, UK (PRWEB) August 13, 2008
The latest in student living has been unveiled by the UNITE Group, the UK's largest provider of student hospitality, as research reveals that students are seeking the ultimate en-vogue experience from their student accommodation in London.
Set in the heart of the Capital, 'The London Student Collection' is being piloted in response to a study carried out by the UNITE Group. The research highlights the increasing demand from students looking for boutique style apartments in exclusive zone 1 locations.
Ian Banister, the UNITE Group's Regional Business Director - London, says; "Savvy students are looking for more choice. They are looking for living spaces which emulate the high standards that they are accustomed to at home - from flat screen plasma TVs and chic interior design to a concierge and cleaning service.
"With 'location, location, location' being the number one priority for students, the London Studio Collection consists of three brand new properties right in central London. The sites are located in uber trendy Shoreditch, Hatton Garden, and Russell Square and have been selected for their exclusive positions; close to universities and within the city's cultural and recreational hub."
The newly launched Collection has a contemporary boutique feel and offers an all-inclusive price, with bills, TV license and contents insurance. The luxury added extras that set the properties apart include state-of-the-art wall-mounted flat screen TVs, broadband, IP television and IP telephony, an onsite 24/7 hospitality service, a weekly cleaner and 24-hour security. An on-site concierge can pre-arrange services such as airport pick-ups, gym membership and international starter packs.
The UNITE Group has 16 further properties across London, home to some 3,000 students. Over the next five years the UNITE Group is investing £750 million in developing a wider choice of purpose built student accommodation in London, and by 2011 the company will offer a total of around 10,000 beds, at 32 sites around the Capital.
Banister continues, "After speaking to our customers and our university partners, we recognised that students have different aspirations and requirements. So, we are matching our customer expectations and adding a further choice to our existing portfolio of accommodation across the Capital by providing premium student accommodation in great locations, at excellent value for money. The new properties offer a choice of environments that make studying and living in London as hassle-free as possible."
The London Studio Collection is expected to prove particularly popular with international and mature students, as well as with UK undergraduates, who are looking for a superior standard of accommodation.
A selection of high-specification studios and flat shares are available, with a choice of sizes and prices to suit individual's requirements. The properties have been intelligently designed to maximise the space of modern urban living, with renowned international interior designer, Viktoria Kowal, providing stylish finishing touches. The layout includes a modern hideaway kitchen, breakfast bar, large study area, double bed, contemporary furniture, wood effect flooring, generous windows and balconies as an option.
Banister explains; "We have looked to introduce some really quirky pieces of furniture to create the wow factor for students. In the communal lounge of one of our properties we have even put in furniture featured in Daniel Craig's Bond film - Casino Royal!"
To ensure that the residents feel at home in their accommodation, communal facilities, such as attractive courtyards and spacious lounges with Sky TV, provide opportunities to socialise and meet new friends.
The first phase of the London Studio Collection opens this September with Canto Court in Shoreditch and Kirby Street in Hatton Garden, shortly followed by Woburn Place near Russell Square in January 2009.
For more information visit http://www.unite-students.com or call 020 8808 5445.
NOTES TO EDITORS:
UNITE Group is present in 29 cities across the UK, and prices for their accommodation start from £66.
About The London Studio Collection:
Prices for The London Studio Collection range from £195 to £330 per week, inclusive of all utility bills, wall mounted flat screen TV's including TV licence, high speed internet access, IP Television and Telephony and weekly cleaner.
No 36 Kirby Street, EC1, Hatton Gardens
Opening September 2008
A choice of 128 Studio Rooms
Short walk to Central St Martins and LSE
Canto Court, EC1, Old Street
Opening September 2008
A choice of 164 studio rooms
Central location for easy reach of all major London universities & colleges
Woburn Place, WC1, Nr Russell Square
Opening January 2009
A choice of 458 studio Rooms
Centrally located, and within a short walk of London's universities
About The UNITE Group Experience:
The UNITE Group provides accommodation that is specially designed for their student customers. Its on-site Hospitality Teams ensure that modern, smart, safe and welcoming accommodation is provided and where there's a team of friendly people on hand for customers.
Recognising that all customers have different expectations and different lifestyles the UNITE Group provides a variety of options to suit customer needs, whether it be a choice of accommodation from luxury studio rooms to standard en-suite rooms. UNITE Group also offers flexible options on how to find accommodation via the website, telephone or with its on-site hospitality teams.
UNITE Group is home to some 38,000 students in 29 cities across the UK.
UNITE Group in London:
UNITE Group has 16 operational properties centrally located by the Capitals Universities and great transport links. UNITE Group is home to some 3,000 students.
Higher Education in London:

Higher Education plays a vital role in London's economy and is estimated that output associated with London's Universities totals over £11bn per annum, equivalent to over £45,000 for every full time student. Over 100,000 jobs in London are dependent on the function of its universities.
The number of full-time students studying in London has increased by 19% or 40,000 students over the past five years.
There are forty universities in London with a total of 376,000 students, of which 241,000 are full time students including over 80,000 international students, representing 25% of the UK total.
Students in London, account for 10% of the total number living in rented accommodation in the Capital.
Forecasters predict a further 500,000 overseas students by 2020 of which 125,000 will study in London.
London's full-time student population is greater than all the full-time students in the next four largest student markets in the UK combined. (Manchester, Glasgow, Leeds and Birmingham).
The City of London has the greatest number of full-time students studying in the Borough.
MEDIA CONTACTS:
Paula Figgett or Sarah-Ann Brittain at Golley Slater PR. Call 0207 255 6400 or email pfiggett @ golleyslater.co.uk / sabrittain @ golleyslater.co.uk
# # #