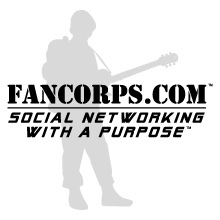 It's been really exciting watching these teams take off
Dallas, TX (PRWEB) August 14, 2008
Recognizing the importance of communicating and connecting with the artist's fan base, Tenth Street Entertainment and Eleven Seven Music have enlisted Fancorps to launch branded street teams on behalf of some of their high profile artist roster. Fancorps will work with the innovative and forward thinking management company and record label to enhance their grass roots marketing and viral campaigns for Mötley Crüe, Crüe Fest, Buckcherry, Papa Roach, Sixx:A.M. and Drowning Pool among others.
The new street teams are administered by Fancorps in conjunction with the label and management staff to streamline the relationship with the bands' most passionate fans. Missions are deployed to the team members for a variety of tasks such as online viral networking and grass roots promotion in their hometowns. Using Fancorps' "Street Team Management Community" application to organize and manage the teams targets, the process of communicating with members is based on a number of demographics such as their location, activity level, age and gender.
"The philosophy of Tenth Street Entertainment and Eleven Seven Music is to begin all of our campaigns using research and the core fan base to build a platform for our records. Fancorps has built and can reach precise communities to support and spread the word about our artists and their projects. Studies show us that most people are influenced to buy music, concert tickets, and other band assets by word of mouth. In conjunction with our new media, touring, marketing, merchandising and publicity departments, Fancorps helps us reach this important population directly." comments Allen Kovac, Founder and CEO at Tenth Street Entertainment and Eleven Seven Music.
"It's been really exciting watching these teams take off," says Fancorps' Director of Marketing Tony Edwards. "The members are so excited to be involved and spreading the word, and the timing could not have been better with the new Mötley Crüe album, Crüe Fest and as Buckcherry and Papa Roach gear up for their highly anticipated recordings."
Adds Bailey Vance, Director of New Media at Tenth Street Entertainment, "Fancorps is integral in supporting the life of a record, and challenging the traditional model of how music lives not only on the internet, but in specific communities. From handing out posters and stickers at each of the Crüe Fest shows, to spreading mp3s and music videos from Motley Crüe, Buckcherry, and Drowning Pool, and distributing them amongst any means possible, the passion of a fan is unrivaled and is what separates Eleven Seven artists from the rest in the music industry. Fancorps is an amazing platform to reach these people in an organized and effective manner."
This partnership provides a unique experience for team members to access behind the scenes information and exclusive content as rewards for their help in promoting the bands. Having independent teams for each artist and the additional team for the tour itself gives the fans options they appreciate while providing Tenth Street and Eleven Seven with a platform to work directly with the fans while receiving important feedback directly from the grassroots level.
For more information, please contact G.I. Sanders at Fancorps, and Jill Siegel at Tenth Street Entertainment and Eleven Seven Music.
For Artist and label information visit media.10thst.com/presskits
About Tenth Street Entertainment:
Tenth Street Entertainment, the leading music management company founded by industry veteran Allen Kovac is a leader in the kind of wide-ranging marketing alliances, branding opportunities, research based promotion and online convergence that marks the future of the entertainment business. At Tenth Street Entertainment, every release is a convergence of the company's departments that oversee the music, radio, marketing, press, online media, touring, branding, international, third party licensing and strategic partnerships that inspires each artist's brand to live long lives in many areas and in unexpected places around the world. The prestigious artist management roster includes Mötley Crüe, Buckcherry, Debbie Harry and Blondie, Sixx:A.M., Papa Roach, Jet, Trapt, Drowning Pool, Marion Raven and the Exies.
Tenth Street Entertainment also encompasses Eleven Seven Music, the #1 Independent active rock label (according to Mediabase and industry trade Radio & Records). The label ranks among the top five performing rock labels, controlling up to 25% of the rock charts since its inception in January 2006.
About Eleven Seven Music:
Eleven Seven Music is the #1 Independent active rock label (according to Mediabase and industry trade Radio & Records) and is among the top five performing rock labels, controlling up to 25% of the rock charts since its inception in January 2006. With the recent #1 independent release from Mötley Crüe (the label scored the #2 position last year with Sixx:A.M.'s The Heroin Diaries Soundtrack and Buckcherry's Platinum and Grammy-nominated 15 ), Eleven Seven continues to build on its model of research-based marketing strategies targeted directly to the fans and building out from that base. Helmed by President Nikki Sixx, the label's roster includes Mötley Crüe, Buckcherry, Sixx:A.M., Trapt, Drowning Pool, The Exies and. Marion Raven. Eleven Seven Music was founded by industry veteran and pioneer Allen Kovac, a revolutionary mind who has been at the center of some of the most creative and successful campaigns in the music business.
About Fancorps:
Utilizing the best in Web 2.0 features, Fancorps provides countless communication tools for an artist to effectively organize and manage a "street team". We call it a Street Team Management Community...and there is nothing like else it in the music industry today. Using our online application an artist can manage and deploy their team of fans and friends to spread the word on the streets and on the web. Communicate with and reward your team members for their efforts all while providing them a centralized hub for all things street team related.
###