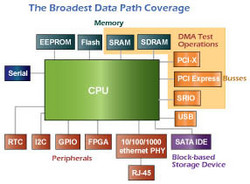 Longmont, CO (PRWEB) August 13, 2008
Kozio®, Inc. (http://www.kozio.com), the market leader in at-speed hardware functional test for board designs based on Freescale'e Power Architecture™ microcontrollers, today announced support of kDiagnostics embedded test application and kPOST power-on self-test embedded application for Freescale's MPC55xx 32-bit microcontrollers for advanced automotive and industrial systems.
The kDiagnostics® embedded test application, ValidationAssistant™, SequenceRunner™, and SequenceReporter™ are part of a total solution for automated functional test for board designs based on MPC55xx microcontrollers, which consistently prove out new board designs built on Power Architecture technology in minutes.
The kDiagnostics embedded test application provides hardware designers and test engineers the ability to run comprehensive test suites at full-speed, allowing greater detection of design or assembly faults. This offering avoids the tedious and open-ended process of testing software and hardware simultaneously while allowing engineers the ability to alter test sequences dynamically for faster root cause determination.
Engineers program the kDiagnostics application directly into the boot or execution memory of the device under test. Once executing, the user executes hundreds of test suites to prove out the new design. In manufacturing, kDiagnostics communicates over Ethernet or serial to test management software that executes user-defined test sequences.
The MPC5554 32-bit embedded controller is the first device from Freescale's MPC55xx family designed for engine management. Containing the Book E compliant core built on Power Architecture technology, the MPC5554 is ideal for any application that requires complex, real-time control. As demands on automotive and industrial designs increase, the MPC5554 offers system performance up to five times higher than available from its market-leading MPC500 predecessors.
Pricing & Availability:
Support for custom boards using Freescale's MPC5553, MPC5534, MPC5554, MPC5561, MPC5565, MPC5566, and MPC5567 MCUs is now available. Please enquire about support for older MPC551X processors. The price for the royalty-free embedded test application kDiagnostics, fully configured to run on the customer's custom board, starts at $14,950. The host tools start at $1,500 per application, with package discounts available. Kozio uses the PHYTEC phyCORE-MPC5554 single board computer for regression testing.
About Kozio, Inc:
Founded in 2003, Kozio Inc. is the technology leader for real-time embedded hardware test applications and fully integrated test management software for 32-bit embedded systems. Our royalty-free kDiagnostics and kPOST applications offer a complete solution that addresses the need for better fault coverage at a reduced cost. Our SequenceRunner, SequenceReporter, and ValidationAssistant applications offer one-button testing, interactive troubleshooting, and report generation for volume circuit board testing. Kozio is headquartered in Longmont, CO.
Sales Contact: Kozio, Inc., 2400 Trade Centre Ave, Longmont, CO 80503, Tel: +1 303-776-1356, Fax: 303-776-1357, Web site: http://www.kozio.com, E-mail: sales @ kozio.com.
Kozio, the Kozio logo, kDiagnostics, kPOST, ValidationAssistant, SequenceRunner, and SequenceReporter are trademarks or registered trademarks of Kozio, Inc. All other trademarks and products are the property of their respective owners.
###