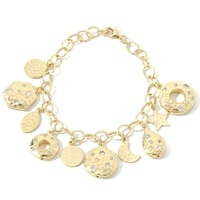 Don't be afraid --- enjoy mixing your metals
Los Angeles, CA (PRWEB) August 13, 2008
The exclusive MichaeLisa line, designed by Michael and Lisa Pitkow, the creators of 20 year old jewelry company Talisman Unlimited, is quickly becoming a favorite at HSN. In July, the fall line was introduced and bling was all the rage…with a trendy hammered gold with clear CZ ring, earrings and charm bracelet (pictured below) being the most popular. Check out pieces from the collection at http://www.hsn.com, and the holiday collection, which will also include pearls, on HSN in October.
During MichaeLisa's last HSN visit, rose, platinum and yellow gold in a variety of styles were introduced to an enthusiastic audience. The rose gold resonated strongly with viewers who were told, "Don't be afraid --- enjoy mixing your metals," by Lisa Pitkow.
Also recommended as mix and match options, long, opera length necklaces, with and without pendants, and rings drew a tremendous amount of attention. "The goal of the entire collection is to offer pieces that can work together, and which can be dressed up or dressed down, so the consumer can build a look all her own and continue to enjoy and add new and complementary pieces as they are introduced," according to Michael Pitkow.
MichaeLisa in Technibond® uses the HSN patented process of gold-plating, with many of the pieces embellished with semi-precious stones including peridot, topaz, citrine, amethyst, blue topaz, citrine, garnet and onyx, as well as both clear and colored cubic zirconia.
Hot fall pieces (see images)...
Like the high karat gold, pearl and diamond collections designed for Talisman Unlimited, MichaeLisa in Technibond® maintains the attention to detail, integrity, quality and fashionable wearability. MichaeLisa is available exclusively at HSN and HSN.com at affordable, popular prices, retailing for $24.90 to $399.90.
A VARIETY OF HGH RES PHOTOS ARE AVAILABLE UPON REQUEST
Contact:
Jo-Ann Geffen / President & CEO / JAG Entertainment / 4265 Hazeltine Avenue / Sherman Oaks, CA 91423 / 818.905.5511 / jgeffen @ jagpr.com
Public Relations / Marketing / Celebrity Booking
###