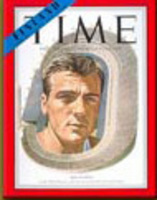 He was a true sports icon in his day, capable of drawing crowds in the thousands for an appearance, all over the world
Oxnard, CA (PRWEB) August 14, 2008
In conjunction with the 60th anniversary of Bob Mathias' first Olympic Gold Medal when he was only seventeen years old, Dreamkeeper Films announces the DVD release of 'Bob Mathias: Hometown Hero', a 53- minute documentary (http://www.heroesfilm.com) to commemorate this great achievement. The film features the last interview given by the two-time Olympic Gold Medallist and U.S. Congressman, who passed away on September 2nd, 2006, after a long battle with cancer.
In this film, Mathias tells his own story of coming from humble beginnings in Tulare, CA, quickly becoming a huge sports icon comparable to modern figures such as [Michael Phelps, Bret Favre or Tiger Woods. In the film, Mathias also recounts how he coped with being barred from competing in any further Olympics, because he had starred in a biographical movie, playing himself.
Mathias became the youngest Olympic gold medalist in a track and field event in 1948, when he won the decathlon at seventeen during two miserable days of London fog, turning back the world's best. It was only his third decathlon competition, having qualified for the Olympics by winning two events in the United States. This young athlete from California turned all the decathlon traditions upside down. The decathlon had been looked upon as an event for the experienced and older athlete.
At the 1952 Games in Helsinki, Finland, he became the first athlete to repeat as Olympic champion in the decathlon. He led another 1-2-3 American team sweep, winning by more than 900 points, the largest margin in Olympic history. Earlier that year, he had played fullback for Stanford in its Rose Bowl appearance. Although just twenty-one, Bob retired, undefeated and four-time national champion.
Noted author (Bob Mathias: Across the Fields of Gold) and sportscaster Chris Terrence said, "The thing about Bob Mathias that amazed people the most, even more than all his many world renowned accomplishments over his lifetime, is the fact that he was always so kind, humble, and friendly to everyone who was lucky enough to meet him in person."
"This documentary has captured the essence of the true Bob Mathias story, as well as Bob Mathias the man," added Terrence.
The film's inception came in 2005 when writer-director-presenter Dan Traub, driving from Los Angeles to Fresno, stopped to visit the Tulare Historical Museum, which houses both of Bob Mathias' gold medals. "The Tulare Historical Society, many local sponsors, and Mr. and Mrs. Mathias were of great help," says Traub.
"He was a true sports icon in his day, capable of drawing crowds in the thousands for an appearance, all over the world," adds filmmaker Traub.
Mathias' widow Gwen Mathias said, "His legacy will always continue. He will always be an inspiration to all young people, and to everyone." He went on to star in four major motion pictures.
During the 1960's and 70's, Bob Mathias owned and operated a boys and girls camp in the Sierra Nevada mountains of California. He also served four terms as a US Congressman, representing the 18th Congressional District. After his political career, Mathias became the first director of the U.S. Olympic Training Center in Colorado Springs, Colorado. He also is a member of the U.S. Olympic and National Track and Field Hall of Fame.
Bob Mathias was, and still is, the youngest track and field gold medalist in Olympic history. Dreamkeeper Films has released this DVD to commemorate one of the most inspiring public figures of the 20th Century.
The film 'Bob Mathias: Hometown Hero' on DVD is available online at http://www.heroesfilm.com or by calling 805-985-3274.
About Dreamkeeper Films:
The company is dedicated to the creation and production of inspiring and compelling independent feature and short films. Dreamkeeper Films is currently in production of three new documentary projects entitled: 'Forgotten Holocaust: The Japanese Occupation of China', 'The Bataan Death March and Corregidor Heroes' and 'Seeds: The Phenomenon of the Seattle Sound'.
Media Contact:
Sylvie Lariviere-Traub
sylvie @ dreamkeeperfilms.com 805-320-3744
###