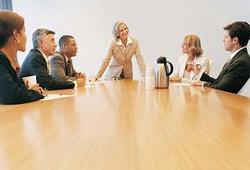 Creating More Effective Managers through Interpersonal Skills Training.
Highlands Ranch, Colo. (PRWEB) August 13, 2008
The TRACOM Group announced a new white paper titled "Creating More Effective Managers through Interpersonal Skills Training." The white paper outlines the results of a survey that provides insight into the benefits of incorporating interpersonal skills training in leadership development.
The new complimentary white paper is available now and can be downloaded at http://tracomcorp-media.precis5sb.com/Managerial 360 Whitepaper.
The survey respondents, participants of TRACOM's SOCIAL STYLE training, were asked a series of questions about organizational performance in the areas of managerial responsibilities, communication and leadership. The survey data revealed a disconnect between how managers see themselves and how their staff see them. While more than half of managers cited "effective communications" as one of their greatest strengths, 85 percent of senior executives and 78 percent of staff identified communications as a deficiency among managers.
"Most managers become managers because they have mastered the hard skills needed for a specific job. Unfortunately, most haven't mastered the soft skills of interpersonal relations," said David Collins, TRACOM vice president for Training Products. "It's important, for the success of the manager and the organization, to incorporate interpersonal skills training in leadership development. Social Style is a powerful tool to help managers understand behavioral differences and build effective relationships."
The vast majority of managers and staff in the survey said that poor communication within or across work teams is one of the greatest causes of poor productivity in the workplace. Senior executives also agreed that one's interpersonal skills could make or break a managerial career. 85 percent of survey respondents at the executive level have at one time in their career seen a leader fail due to poor interpersonal skills.
While more than half of the managers who participated thought interpersonal skills were one of their greatest strengths, 55 percent of staff said their bosses could improve those skills.
The survey data also revealed that more than 80 percent of managerial respondents agreed that Social Style training has helped them become more effective managers. Through Social Style, managers are able to learn how to interact in effective and meaningful ways with both direct reports and executives
About the TRACOM Group:
For nearly 50 years, The TRACOM Group has helped individuals and organizations improve workplace performance by building interpersonal skills, improving teamwork and developing leaders. TRACOM offers measurement-based learning models, courses, surveys, assessment tools and consulting services. Much of TRACOM's work is based on the Social Style Model(TM), a proven model for effective work and personal relationships. TRACOM is a division of Reed Business Information. To purchase TRACOM products and for additional information and research on the impact of Social Style on performance, visit http://www.tracomcorp.com.
Media Contact:
Adriana Saldana
Fisher Vista, LLC / HRmarketer.com
831-722-9910
asaldana(at)hrmarketer.com
This press release was distributed through eMediawire by Human Resources Marketer (HR Marketer: http://www.HRmarketer.com) on behalf of the company
listed above.
###