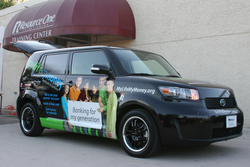 Most of today's younger generation don't yet appreciate the value of a credit union, over banks
Dallas, Texas (PRWEB) August 13, 2008
Resource One Credit Union is proud to announce the launch of MyLifeMyMoney and the MyLifeMyMoney spokesperson contest.
"We believe MyLifeMyMoney will revolutionize the way Gen Y'ers think, spend and save their money," said Resource One Credit Union President Jim Brisendine.
"MyLifeMyMoney exemplifies Resource One's commitment to being a progressive organization that combines innovative products with excellent service qualities for our communities," added Brisendine.
Communicating via events and the social networking media, MyLifeMyMoney provides relevant products to give Gen Y'ers (18 - 30 year olds) the necessary tools (first time home and auto loans, custom accounts, online banking, special loans with lower rates, higher interest rates, etc.) and education to better manage their money. MyLifeMyMoney allows Gen Y'ers to "call the shots" when it comes to their money thus allowing them to meet their life goals: "It's your life, you make the call!"
"Most of today's younger generation don't yet appreciate the value of a credit union, over banks" said Andrew Szabo, the Chief Marketing Officer for Resource One.
"Resource One is member-owned, not-for-profit serving the people who work, play or study in Dallas and NW Harris counties, MyLifeMyMoney will now bring the benefits of a credit union with better interest rates and the other relevant services to a whole new generation" added Szabo.
On Friday, August 15th, Resource One Credit Union will launch its' MyLifeMyMoney spokesperson contest, eligible to Dallas or Northwest Harris (Houston) residents between the ages of 18 and 30. The spokesperson competition will take place in two Phases, Phase I (August 15, 2008 - September 30, 2008) and Phase II (October 1, 2008 - October 30, 2008).
Starting Friday, contestants can submit their application with a 500-word blog and video to http://www.mylifemymoney.org. During Phase II, Resource One will select the top finalists who will then solicit votes from their community of peers by whatever legitimate creative means necessary. Top candidates who best demonstrate their ability to create viral buzz will drive the most votes to their MyLifeMyMoney candidacy.
The MyLifeMyMoney spokesperson contest will culminate on October 31, 2008. On that day, the candidate receiving the most votes will be selected as the MyLifeMyMoney spokesperson.
"The winning applicant in the search for the MyLifeMyMoney spokesperson will be the face of Resource One to their peers by doing things they probably already are doing: blogging, making YouTube videos, attending events and creating buzz about things they believe in," continued Brisendine. "It would be an ideal part-time job for a student".
The MyLifeMyMoney spokesperson will receive use of the following perks for one year:

MyLifeMyMoney Scion
iPhone & service for one year
Hi-def Video camera
Apple Laptop
Salary for 1 year
Digital Camera
and more…
"Our spokesperson will exemplify the "MyLifeMyMoney" brand and be the voice for their generation: young, dynamic, and active," said Andrew Szabo.
"Imagine "American Idol" meets "The Apprentice", it'll be fun and we're expecting a large response from Gen Y'ers, who are both creative and passionate" added Szabo.
For more information about MyLifeMyMoney, please visit http://www.mylifemymoney.org
About Resource One Credit Union:
Resource One, formerly Sears Employees Credit Union is headquartered in Dallas, Texas. Founded in 1936, Resource One Credit Union currently serves over 270 employer groups and also serves the communities of Dallas and Northwest Harris County with over 40,000 members nationwide. Visit Resource One Credit Union's homepage at http://www.r1cu.org.
###