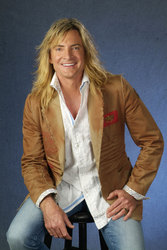 McKinney is a speaker who makes audiences smile, challenges them to be more successful and leaves them wanting more. His presentation will add excitement and spice to the Leaders in Luxury meeting
Dallas, TX (Vocus) August 14, 2008
Mansion builder to share success tips at Leaders in Luxury event
August 12, 2008 -- Frank McKinney, "the Maverick Daredevil Real Estate Artist," has been chosen as a keynote speaker for Leaders in Luxury (LIL), an invitation-only special event for 100 of the nation's leading real estate professionals who work in the upper-tier market. Hosted by The Institute for Luxury Home Marketing (ILHM), this year's LIL event will be held in South Beach (Miami) at the luxurious new Gansevoort South Hotel and Spa.
"Frank McKinney's personality is as big as the 60,000+ square foot mansions he builds," said The Institute's Founder Laurie Moore-Moore. "The story of his life is inspiring and he has many ideas to share about how to maximize one's success, despite today's market conditions. If anyone understands branding, promotion, and how to succeed, McKinney does."
At age 18, with $50 in his pocket and without the benefit of higher education, McKinney left his native Indiana for Florida in search of his profession. In his first Florida job he earned $180 a week, waking at 4:00 a.m. and digging sand traps by hand on a Deerfield Beach golf course. On May 19, 1986, at age 22, Mr. McKinney founded his first real estate investment company and bought his first $50,000 fixer-upper, selling it a few months later for a $7,000 profit.
Today, Frank McKinney is known around the globe as a real estate "artist," and the creative building force behind some of the world's unique mansions. A true maverick with a charming flair, he is a daredevil in the risky world of speculative high-end real estate. McKinney is nearing completion of "Acqua Liana," an opulent eco-friendly "green" mansion priced at $29 million and "Crystalina," a $30 million Polynesian green home.
Although McKinney builds new dream mansions, he lives with his family in an historic 3000 square foot home, offices in a 150 sq. ft. tree house, and is committed to his Caring House Project Foundation, a non-profit organization dedicated to creating self-sufficiency by providing housing, food, water, medical support and opportunity for the desperately poor and homeless around the world.
Another current McKinney project is a $135 million spec home, The Manalapan Residence. This three-story 67,670 square foot home includes 14 bedrooms, 24 bathrooms, an 18 car garage, a 6,140 sq. ft. master bedroom suite, lavish Grand Rotunda room for entertaining, dual water walls, aquarium ceilings and walls, movie theatre, casino and club room with stunning aquarium wet bar, oceanfront gourmet family kitchen, catering kitchen, outdoor summer kitchen, his/her offices, 10 wet bars, two wine rooms (one for red, one for white), gymnasium with beauty salon, two swimming pools (classical lap and grotto waterfall/waterslide), shark tank, two elevators, bowling alley, tennis court with pavilion, archery range, 1/4 mile jogging/go cart track, butterfly gardens, Italian and Floridian gardens, sculpture gardens, citrus orchard, guest house, staff house, back-up generator, full home automation, and more.
"McKinney is a speaker who makes audiences smile, challenges them to be more successful and leaves them wanting more. His presentation will add excitement and spice to the Leaders in Luxury meeting," predicts Institute President Waco Moore. "As part of our agreement with Mr. McKinney, The Institute is also pleased to fund the construction of two houses in Haiti through his Caring House Project Foundation."
About The Institute for Luxury Home Marketing
The Institute for Luxury Home Marketing trains real estate agents who work in the luxury market and awards the prestigious Certified Luxury Home Marketing Specialist (CLHMS) designation to members who meet strict performance standards. Based in Dallas (TX), The Institute has an international membership..