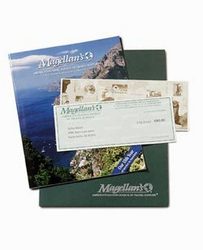 Key West, FL (PRWEB) August 14, 2008
Trusted Tours and Attractions, an industry leader in the discount travel industry, has announced their last online contest of the summer, which will reward one of its newsletter subscribers or contest bloggers with a $150 Magellan's gift card.
In order to be eligible for the contest, participants must either subscribe to Trusted Tours discount vacation ideas newsletter that delivers monthly insights and special offers for travel destinations, or blog about the contest on their blog and link to the newsletter. Entries for the contest close on August 31st, 2008.
"Summer travel is coming to an end. We have all had amazing experiences that we enjoy sharing with others and our bloggers play an important role in this. That is why we are offering them double the chance at winning when they blog about their most interesting summer vacation experiences," said Christian Belland, Director of Historic Entertainment at Trusted Tours.
In order to double their chance at winning, bloggers must mention the Trusted Tours Newsletter page in their post about a memorable summer travel experience. To instantly qualify, once the blog has been posted and the blogger has subscribed to the newsletter, an email with the link to their post should be sent to ccbelland @ trustedtours.com.
"Readers turn to Trusted Tours.com to research, select and pre-purchase a wide variety of vacation activities that have been reviewed for quality. Because we encourage our customers to come back and review their experiences afterwards, it gives future travelers the unique ability to make travel choices based on real critiques and details," said Belland.
Trusted Tours.com offers customers easy and safe online ticketing for a variety of sightseeing tours, attractions and museums from tickets to Madame Tussauds nationwide to Top of the Rock New York City, the observation deck atop Rockefeller Center.
The Trusted Tours monthly newsletter highlights insider travel scoops and details and typically focuses on a specific destination each month like a NYC Ducks Tour or Chicago City Pass adventure. In addition to the newsletter, the website's blog offers photos, travel advice and detailed information on a variety of popular travel destinations.
About Trusted Tours & Attractions:
Trusted Tours & Attractions provides easy and safe online ticketing for numerous sightseeing tours, attractions and museums. TrustedTours.com is a division of Historic Tours of America, a leader in the family and heritage tourism industry for over 25 years that owns and operates a variety of sightseeing tours, museums and attractions in six different U.S. cities.
###