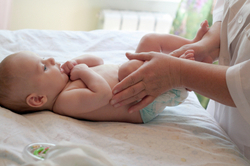 Parents must be aware that there are things they can do to minimize the frequency and effects of this potentially serious problem
San Bruno, CA (PRWEB) August 14, 2008
While pediatric diarrhea is a very common childhood illness, it can be frightening for parents and potentially serious for the child if it results in severe dehydration. The American Medical Association says that in the United States alone, there are 20 to 35 million episodes of diarrhea in children each year. Few anti-diarrheal products can be given to very young children, and loperamide is not recommended for children under the age of three.(1) This can add to the frustration of parents who feel they have few options other than watchful waiting.
"Parents must be aware that there are things they can do to minimize the frequency and effects of this potentially serious problem," said Patricia Raymond, MD, board-certified gastroenterologist and assistant professor at Eastern Virginia Medical School.
Dr. Raymond offers the following tips to help protect infants'/children's tiny tummies:

Use antibiotics wisely: Dr. Raymond warns parents not to pressure their pediatrician for antibiotics unless they are truly needed. For instance, parents should be aware that antibiotics typically have no effect on the common cold, cough or flu. Even if antibiotics are needed to wipe out an infection, they often also wipe out the beneficial microorganisms, or good flora, in the intestinal tract, which open the doors for pathogenic or "bad" microorganisms to take over. This can result in diarrhea, which can range from mild to severe.
Consider a yeast-based probiotic: A July 2006 study published in the World Journal of Gastroenterology indicates that the use of a natural, yeast-based probiotic supplement called Saccharomyces boulardii (sold worldwide under the brand name Florastor®) significantly reduces the frequency and duration of acute diarrhea in children.
Be aware of what's "going around": Many cases of acute childhood gastroenteritis are actually caused by viruses as opposed to bacteria. For instance, according to the Centers for Disease Control (CDC), rotavirus is the most common cause of severe diarrhea in infants and young children in the United States. Occurring most prominently between November and May, it affects approximately 14 percent of U.S. children.
Be vigilant about food safety: Food-borne illnesses, such as salmonella or E. coli, can be particularly dangerous for children. Dr. Raymond reminds parents to wash fruits and vegetables thoroughly (even if their packaging claims that they have been "pre-washed"), cook meat all the way through (children should not eat raw or rare meats, poultry, fish or pork) and wash and disinfect cooking surfaces frequently to prevent cross-contamination.
Look for signs of dehydration: If your baby or child is suffering from diarrhea, and she shows a decrease in urination, unusually dark/pungent urine or listlessness, she is likely becoming dehydrated. Dr. Raymond advises calling the pediatrician immediately if these symptoms are present. Other signs include crying without tears, cold, splotchy hands/feet, and dizziness/delirium. Children should be encouraged to drink water or other sodium-free beverages, or to ingest sugar-free ice pops. In the case of severe symptoms, the child should be taken to the emergency room.
For more information, visit http://www.florastories.com.
(1)Loperamide Not Recommended First for Diarrhea (May 2007), Pediatric News, Vol. 41, No. 5.
###