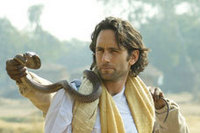 Boston, Ma (PRWEB) August 13, 2008
The MFA Film Program is delighted to present a 5-show engagement of Enlighten Up!, September 12-14, Boston-based filmmaker Kate Churchill's irreverent look at the world of yoga through the eyes of novice practitioner and skeptic, New York City journalist Nick Rosen. Director Kate Churchill will be present at all five screenings and star Nick Rosen will be present on Sept 12, Sept. 13, and at Sun. 14 morning screening. A reception follows the opening night show on Sept 12.
Enlighten Up! (2008, 82 min.) is distinguished by its view of mystical yoga through the eyes of a curious-but-skeptical hedonist. The film follows Nick Rosen, through mainland United States, Hawaii and India as filmmaker and yoga enthusiast Kate Churchill documents his increasing immersion in the world of yoga. Her goal is to prove that yoga can transform anyone, even Nick. Before he can say "om", Nick finds himself twisted like a pretzel surrounded by celebrity yogis, true believers, kooks, entrepreneurs and some dedicated teachers. The more Nick investigates yoga, the more contradictions he discovers. Tensions run high as Nick's transformational progress lags and Kate's plan crumbles. What unfolds and what they discover is not what they expected.
The film features well-known yoga teachers from India and the U.S. including B.K.S. Iyengar, the founder of Iyengar Yoga (who was named one of the 100 most influential people in the world by Time), Pattabhi Jois of Ashtanga Yoga, Norman Allen (the first American to study with Pattabhi Jois), Sharon Gannon and David Life of Jivamukti Yoga, Diamond Dallas Page former pro wrestler turned yoga teacher, Dr. Madan Kataria of Laughing Yoga, Rodney Yee star yogi in Living Arts videos, Cyndi Lee of OM Yoga, Beryl Bender Birch of Hard and Soft Yoga, Natasha Rizopoulos of Yogaworks and Boston's Baron Baptiste of Baptiste Power Yoga.
In addition to Churchill, who has made multiple films for Nova, National Geographic and PBS, Boston-area artists who worked on the film include: Krishna Venkatesh, formerly with the popular Boston band Think Tree, who composed the original score; filmmaker turned editor Khari Streeter, who previously directed Black & White & Red All Over and Lift; Emmy-Award winning Editor Jonathan Sahula; and internationally recognized visual artist and lens man Jonathon Hexner, who shot, animated and co-wrote the film.
Tickets: opening night show with reception:$20 members; students, and senior; $25 general admission. All other shows: members, seniors and students $8; general admission $10. Discount matinee prices (weekday until 5 pm; weekends until 12:30 pm) are $6, $7. To purchase please call the box office at 617-369-3306 or online at http://www.mfa.
Enlighten Up!
Friday, Sept. 12 8:00 pm
Sat., Sept. 13 12:20 pm
Sat. Sept 13 7:45 pm
Sun. Sept. 14 10:30 am
Sun. Sept. 14 8:00 pm
A reception follows the premiere screening.
Director and members of the filmmaking team present at all screenings.
Nick Rosen present on Sept 12, Sept. 13, Sun. 14 10:30 am.
Co-presented on Sat. Sept. 13 12:20 pm by TiE's Women's Initiative
Sat. Sept. 13 7:45 pm by BostonYoga.com and DuVine Adventures
Sun. Sept. 14 8:00 pm by Global Mala Boston
Kate Churchill began making documentaries for the PBS Series, Nova, where she served in several capacities including Producer/Director/Writer for Extinction! (an episode of the CINE Golden Eagle Award-Winning Series Evolution), Field Producer and Director for both Neanderthals On Trial and Mystery Of The First Americans. In 2001 Kate founded her own company, Nama Productions, where she produced and directed Transform Your Life, a reality-based TV special for PBS and In Search Of The Jaguar, a National Geographic Special (Genesis Award for Outstanding PBS Documentary). Before diving into documentaries, Kate was the first Producing Director for the world-renowned Lookingglass Theatre Company in Chicago as well as working for Disney and Universal Pictures in Los Angeles. Enlighten Up! is Kate's first feature documentary.
More information about the film and images are available http://enlightenupthefilm.com. A film trailer is available here.
The Boston Phoenix is the media sponsor.
###