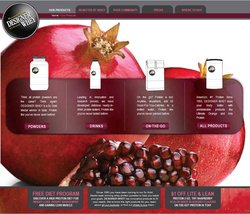 The new DesignerWhey.com profiles a stronger brand positioning, redesigned product packaging and repositioned consumer market
Carlsbad, CA (Vocus) August 19, 2008
Designer Whey®, America's #1 Selling Protein, announced today that it has launched a new Company Website (http://www.designerwhey.com). Designed to offer an optimized, easy to navigate format, DesignerWhey.com's new look and feel identifies with the product packaging redesign and current position in the industry.
The new site features comprehensive information that is organized intuitively around the behavior of DesignerWhey.com's visitors. By monitoring analytics of the site's traffic over the last few years, the development team was able to better organize and streamline content creating a user friendly environment. The added feature of a Community section opens the channels of interactive communication between the Designer Whey Team, their partners and consumers.
"It was our goal to create an easy-to-use website, populated with quickly found, pertinent content that will educate visitors on our products, as well as help change the way America feels about protein," said David Jenkins, Founder and Chief Executive Officer of Designer Whey, "We recognize the need for a site customized to cater to the large growing market of consumers that do most of their product research and purchasing online."
Customizable Consumer Dieting Program
Winner of five gold medals for taste by the American Tasting Institute, Designer Whey recently entered into the highly competitive drinks business with the release of its Protein Blitz™ and Lite & Lean products. Each flavored Protein Blitz drink delivers better power, better stamina and better recovery in every bottle. In addition, the Protein Blitz product label contains the web address for a dedicated website where a custom gaining and dieting program is found. Consumers can go to http://www.designerwhey.com/diet.htm to learn about proper diet, track their calories and set up a personalized shopping plan. Lite & Lean also comes in a great tasting powder form.
"The new DesignerWhey.com profiles a stronger brand positioning, redesigned product packaging and repositioned consumer market," added Jenkins. Through dedicated consumer research, the company has found it strongly appeals to active mothers who have taken on the responsibility of head of household purchasing. The new corporate website and packaging changes are strategically targeted to reach these women.
About Whey Protein & Designer Whey
The Designer Whey vision is to change the "Whey" America feels about protein by providing consumers with great tasting, healthy, whey-based products that improve their healthy lifestyles.**
Since 1993, Next Proteins has pioneered the manufacture of a full line of branded consumer whey-based products, including powders, bars and beverages. Next Proteins manufactures the industry's best selling protein, Designer Whey, which powers the company's innovative, great tasting products such as Designer Whey Protein2GO® and Designer Whey protein beverages.
Whey protein has been called the ultimate functional food. The revolutionary benefit of Designer Whey products is the utilization of Whey, a protein-rich liquid component of milk produced as a by-product of the cheese-making process.
Dedicated to research
Next Proteins, the maker of Designer Whey, has spent more than $10.3 million on research to match the perfect blend of nutritional whey protein with great taste.
Designer Whey protein products before and after workouts can help with better strength, better power, better muscle recovery, better health and performance.
Media members looking for additional information on Designer Whey's complete line of protein powders and drinks should visit Designerwhey.com. You may also learn innovative ways to incorporate protein into current diet plans, meals and discover tasty protein shake recipes.
*Based on AC Nielsen sales monitoring for 52 weeks ending June 14, 2008, Designer Whey brand is #1 in Unit Sales for high protein powder in US-FOOD for 148 weeks straight.
**The current recommended dietary guidelines and practices in the U.S. support the use of dietary protein at levels above 1.5 g/kg per day or .68g/lb body weight/day (A150 lb woman needs 102 grams of protein per day) during weight loss. - Layman, Donald K., Journal of the American College of Nutrition.
###