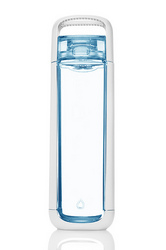 Kirkland, WA (PRWEB) August 14, 2008
Many of the world's best commercial and student designers have already entered this year's Spark Design Awards, but there is still time for those who haven't.
Winners that catch the eye of the judges will have their work exhibited in America's most exciting new design hot spot - the dazzling Autodesk Design Center, at One Market Street, San Francisco. Late additions to the 20-strong multi-disciplinary judging line up include product designer Manuel Saez, Architect David Meckel of California College of Art and digital designer Margeigh Novotny, MOTO Development Group.
Following the nail-biting live judging session on September 6, 2008 will be the San Francisco climax of the awards, with the nominees work premiered at a stylish launch of the Spark 2008 show, on October 3, 2008.
Spark is a fresh, modern qualification system that recognizes new processes and technology and seeks to involve people and ideas from untapped sources. Designers from all levels and skill-sets are welcome, be they professional, novice or student. Everyone is invited to participate: designers, art directors, architects, design firms, manufacturers, institutions, ad agencies, students and novices--all may enter and enjoy the Spark Design Awards.
Spark judges are already assessing Phase I works as they come in, but there is still time for last minute entries. Spark will begin announcing its Phase II Candidates through the second half of August. Designs and designers that make it into Phase II (Challenger Candidates) will be notified and given the opportunity to compete, with their best presentations, before the live Spark Jury.
Everything else you need to know is at sparkawards.com.
In the meantime, here's a peek at some of the entries for Phase I:
TalkChart Pop-Out
Design Type: Medical
Designer: Alan Robbins
The TalkChart Pop-Out concept takes a really neat communications device and puts it in people's pockets. It's for people who cannot speak as a result of stroke, aphasia, tubes, or other challenges. By pointing to the graphic symbols, letters of the alphabet, pain scale, or body diagram, these patients can make their needs known to staff and family. The TalkChart makes communication possible at an isolating and frustrating point for a patient. The original TalkChart is being used in thousands of hospital throughout the United States but nurses and healthcare workers have asked for a more portable version that might be easily be carried in a pocket yet still open to full size and be robust enough to use with patients. This concept version solves those problems by providing a pointing chart that collapses into a small size that can be carried in a pocket yet pops out to full size for use in communicating.
TreePac
Design Type: Green
Designer: Essential Team
Ever wonder how many cardboard boxes the world really needs? Treepac is a reusable shipping container intended to replace them for most business-to-business, business-to-customer and person-to-person shipping. The pack is meant to be used like a cardboard box but can serve again and again. Essential's researchers, designers and engineers estimate that a recycled cardboard box only has a maximum of around eight uses before it must be reconstituted in an energy-draining production facility. Treepac is made entirely from cellulose acetate, an environmentally friendly polymer made from wood pulp and is available in biodegradable and non-biodegradable formulations.
KOR One Hydration Vessel
Design Type: Product: General Consumer Goods
Designer: RKS Design Team
We're so used to throwing away plastic bottles that only dramatic design can (perhaps!) turn this around. The KOR ONE Hydration Vessel is a response to the need for an environmentally-sound way to stay hydrated. Made from Eastman Tritan™, a ground-breaking new plastic that is completely free of Bisphenol-A (BPA), it's healthy for the environment and the body. The design team created the distinctive obelisk shape of the KOR ONE to elevate the ritual of hydration. Tritan's rich tactile properties and glass-like clarity enhance the experience. The body of the KOR ONE has a luminous quality, with the subtle tint of clear blue beach glass, polished by years in the sea. An innovative cap with a thumb release flips back 180 degrees and stays put, so you have unobstructed access to a mouthpiece small enough to sip from, yet big enough for a thirst-quenching chug. Close the lid and the latch engages automatically. The KOR ONE's frame extends above the cap, making it easy to handle even when your hands are full. Just loop a finger through the top and you're good to go. Refill again and again---and make sure to recycle it!
Life Desk
Design Type: Furniture (Residential)
Designer: Haishan Deng
Surely the world's first earthquake-proof desk, the Life-Desk creates a "Triangle of Life" to protect you. Earthquake and tornadoes kill thousands of people every year. Hiding under a table or other furniture is not necessarily a safe place at such moments because tables or cars are usually crushed. The design team learned that most survivors are protected in a triangular space created by falling objects. It is called the "Triangle of Life", a term coined by Doug Copp, chief of ARTI, the American Rescue Team International. If you look into a collapsed building you will find triangle space everywhere -- it is the most stable shape to save lives. The designers decided that as hiding under a desk is a human instinct, a special desk is the best way to protect oneself. The desk-board closes, to transform the desk into a triangle -- the most stable form -- without need of a heavy metal cage. Fresh air enters from the side and back and there's an emergency box for supplies. A wireless positioning system, so Life-Desk can alert rescue teams to locate survivors, is under development.
Hawaii Portable Classroom Prototype
Design Type: Green
Designer: Peter Anderson
An energy-neutral portable classroom, this design not only conserves but also collects and generates natural resources, including electrical energy, daylight, wind energy, and rainwater. As well as being strong, efficient and conserving, natural forces and resources are highlighted and exposed throughout the structure, and all systems and performance criteria are monitored and broadcast to the web. The building acts as a learning tool for occupants, other schools and the general public. The design optimizes photovoltaic roof surface orientation, naturally shaded north-facing daylight glazing, and modulated natural ventilation. All of these forces are balanced with the additional criteria of manufacturing and transport efficiency, functionality for classroom use, low operating costs and ease of maintenance.
Better Place
Design Type: Logo
Designer: Dan Chau
You'll be seeing this logo on the backs of a lot of eco-cars in future. The Better Place logo is a vivid blue globe with a section strategically re-sited to evoke a 'pathway' to the world. This 'switch' symbol will appear on the back of cars, currently being designed by Renault-Nissan, as well as in a wide range of media and marketing collateral, from business cards to signage, print, television and online advertising.
ORIENS - reinventing the lifecycle of a plane
Design Type: sustainable motor glider
Designer: Roland Cernat
Surely the most beautiful flying machine design in decades, the Oriens (latin for sunrise) is a motorglider concept. Reinventing the aircraft for the cradle to cradle generation, it combines an ecological energy concept and sustainable materials, with an organic design language and 'bionic-inspired' details to rethink and optimize the way motorgliders are built. It's intended be powered in any of three ways -- gliding on the wind, by a motor driven by solar panels, or using a hybrid solar / gasoline engine. The whole concept follows a transparent design language, to provide an intensive flight feeling. No need for a window seat. Hey Boeing -- how about it for the 797?
###