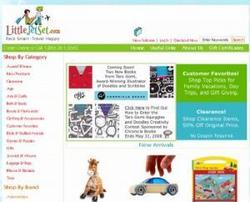 I loved the variety of items available. I could do all my Christmas shopping for kids all on this website. I liked that items were categorized by products, brands, ages, and even price. The prices are very reasonable.
Interlaken, NJ (Vocus) August 14, 2008
Traveling is stressful. Between the high cost of gasoline, long lines at security and frustrating flight delays, it's enough to make you want to rent "Pirates of the Caribbean" and pretend you're in the Bahamas. Add traveling with children to the mix and it can become worse than getting shipwrecked. Although there's nothing to be done about the gas pump, the x-ray machine or the deserted island, for making travel with kids a pleasure, LittleJetSet.com has been awarded a 2008 iParenting Media Award for Outstanding Website.
Today, thanks to the founders at Little Jet Set, parents can now find everything they need to make family travel simple, easy and fun on one user-friendly website at http://www.littlejetset.com . Little Jet Set provides an outstanding collection of kids' travel products that foster intellectual, emotional and physical development through creative and interactive play. Best of all, their products are conducive to travel on the road or in the air. Everything is specifically designed, or appropriately sized and packaged for, traveling with kids.
Little Jet Set offers hundreds of items to keep children organized, occupied and comfortable. You'll find everything from a travel blanket and pillow set packed in a mini suitcase, to spare outfits for babies and toddlers, to dozens of travel-sized games for all ages.
Many of Little Jet Set's unique toys, games and books have been recognized for their outstanding designs, concepts and content by award organizations and publications. Parents can shop with confidence knowing they are buying products that have been tried and tested! Parents can shop from 12 categories to make finding the perfect item easy:

Award Winners • Gifts • Books & Flashcards • New Products • Clothing & Accessories • Journals & Albums • Arts & Crafts • Customer Favorites • Luggage & Bags • Games & Puzzles • Toys • Pillows & Blankets
Parents can also search by age and price.
Little Jet Set believes that the prepared parent is the happy parent on trips. Parents will be delighted to discover that a variety of unusual and functional travel items are just one mouse click away at http://www.littlejetset.com. With such a wide selection, parents can easily find products to keep youngsters completely outfitted for a variety of family excursions including cross-country visits to grandmas or afternoon trips to the park. Little Jet Set is sure to keep your kids well prepared for your next travel adventure, no matter the locale, and that's guaranteed to make mom one happy camper.
Here's what some of the iParenting reviewers had to say about LittleJetSet.com:

"I loved the variety of items available. I could do all my Christmas shopping for kids all on this website. I liked that items were categorized by products, brands, ages, and even price. The prices are very reasonable."
"I like the colors of the pages. I love the selection of the clothing. The prices are very reasonable. The pages loaded quickly, and that is very helpful when shopping online."
"This website was appealing and eye-catching from first glance. The colorful pages loaded quickly and were full of fun and interesting games and toys. We really loved paging through all the fun toys and games."
After the reviewing process was completed and the award presented, iParenting Media reviewers were asked if they thought the product descriptions were thorough and helpful, if they were using them to determine whether to make a purchase.
Here is what they said:

"Yes, they were really interesting to read. Not only did they describe the products, but some told about the creators of the product which would make me feel good about purchasing items that were designed by other mothers. I appreciated the useful links as well. It's nice be able to find more than what you are expecting on a website."
"Yes, the description of each product was matching. The simple and not lengthy descriptions helped me get exactly what I wanted."
"The product descriptions, pictures, and content was extremely helpful, detailed, and interesting. As far as the content that was included in this site, I found it relevant, interesting, and extremely helpful in deciding which products to buy."
iParenting.com, a Disney Internet Group media property, is a premier media site focused on parents. Their award-winning network includes more than 40 websites devoted to the entire family lifecycle and Points on Parenting radio show. iParenting Media's Award Program provides a credible and objective method of determining the best products and recognizes those products with its iParenting Media Award. It is dedicated to informing, inspiring and uniting the parenting community it serves via its multiple media platforms of the Internet, syndicated newspaper column, radio show and video.
The goal of iParenting's awards is to provide the best parenting content and community platform for its members as well as expanding sales, building strong customer relationships and increasing branding for its clients. It does this through innovation, responsiveness and a passion to be the best, which leads to its users' and clients' satisfaction. It is a team of motivated individuals and its strength is generated from its devotion to its community, its clients, its industry and its employees.
About LittleJetSet.com:
Little Jet Set was co-founded by a pair of seasoned attorneys turned expert "mom travelers" who decided to take a sabbatical from practicing law to share their knowledge about the inherent challenges of traveling with children with other parents. As "mompreneurs", Hana Wolf and Nisha Cordero carefully select thoughtfully designed and well-constructed products to share online at http://www.littlejetset.com that appeal to various ages and interests and that respond to the travel needs of today's families.
For information visit http://www.littlejetset.com.
###