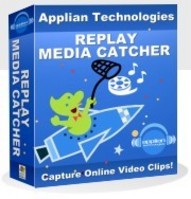 Replay Media Catcher is the first ever production software to be able to capture online video and audio streams from virtually all the top-tier content sites
San Anselmo, CA (PRWEB) August 15, 2008
Applian Technologies today announced the release of Replay Media Catcher 3 with the ability to capture online video and audio streams from more sites that any other software. According to Applian Technologies, all media from the major Flash and Windows Media video and music sites can be recorded with Replay Media Catcher.
Included in this release is a new SmartNames technology, which the company claims is able to determine the name of the audio MP3 file or video file in most cases, and tag the recording accurately.
Replay Media Catcher advertises a simple one-click recording interface. Customers are instructed to click the Start Recording button, and then play the streaming video or MP3 audio to capture. Once Replay Media Catcher detects the media stream, it saves a playable video or audio file on the PC hard drive, and the users can then go in search of other media to record. The Replay Media Catcher web page claims the software can record multiple streams simultaneously, limited only by the speed of the customer's internet connection. Also included is Applian's FLV Player, which lets customers watch their recorded Flash videos.
"Replay Media Catcher is the first ever production software to be able to capture online video and audio streams from virtually all the top-tier content sites," said Bill Dettering, CEO of Applian Technologies. "These unprotected, unencrypted files have been previously impossible to record for your personal use, and now Replay Media Catcher makes it possible to archive and enjoy more great online video without having to be connected to the internet."
Replay Media Catcher is available for download and immediate purchase from replay-media-catcher.com for $39.95. A free demo is also available, which is fully functional for capturing YouTube videos. Replay Media Catcher requires a PC running Windows 2000, XP or Vista.
About Applian Technologies
Applian Technologies was started by Bill Dettering in 2000 with the launch of Replay Radio, a program Bill created to combat the boredom of his long commute down to Silicon Valley. Replay Radio allowed Bill to record his favorite radio shows and listen whenever he wanted. Helping people get more enjoyment out of streaming media is what Applian Products are all about. Now, eight years after the launch of Replay Radio, Applian is recognized as the global leader in recording software. Other popular Applian products include the Replay Capture Suite, Replay A/V, Replay Music, Replay Converter, Replay Screencast and At-Large Recorder, their Slingbox™ recorder. Learn more about Applian Technologies and all their products at http://www.Applian.com.
For more information about the Replay Media Catcher please contact:
Leslie Bee
Director of Marketing
Applian Technologies
http://www.Applian.com
1-888-808-9877 ext. 4
###