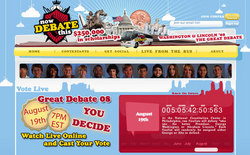 The founding fathers would be proud.
Philadelphia, PA (PRWEB) August 15, 2008
They have discussed it online. They have produced videos from Mount Vernon, WA. and Springfield, IL. They have argued face-to-face at the Union League here. But on Tuesday, August 19, 2008, two rising high school seniors will engage in a final debate for the dough -- $200,000 in scholarships based on who makes the better case for the question, Who was the better president, George Washington or Abraham Lincoln?
Malik Neal of Philadelphia will debate Phillip Hayes of Lindale, Texas in the final competition that began months ago with hundreds of applicants from across the country.
The winner will be chosen both by the National Constitution Center audience voting in person and the online public, who will have until 12 midnight (3 am Eastern) on August 20 to view the debate and cast their vote at http://www.nowdebatethis.com. Dr. John M. Templeton Jr., sponsor of the "Now Debate This" program, will announce the winner and present checks to both finalists live on Fox and Friends Wednesday morning, August 20.
Now Debate This, the first national civics-focused educational online reality show and scholarship contest for teens, is the brainchild of Mary L. Hagy, executive producer and president of Pinnacle Performance Group of Philadelphia.
"This program is a one-of-a-kind opportunity for students to experience the legacy of our great leaders, Lincoln and Washington, while at the same time debating their own views about the status of issues we face today," Hagy said. "We began this year with the Washington-Lincoln Debate, but we hope to pose a new, equally compelling question each year to engage students in civic conversation and the creative study of history."
With video cameras and laptops given to them by the program, 16 semi-finalists documented their travels of historic sites this summer, posting their thoughts online at http://www.nowdebatethis.com and its social network called ConFab. Chosen this spring after submitting videos on YouTube, the group spent two weeks prior to the debates traveling the United States to explore the principles of America's founders.
The semi-finalists offered their conclusions about the Presidents in a round robin debate on August 8 at the Union League of Philadelphia. The final two contestants who emerged from the round robin debate, Neal and Hayes, will return to Philadelphia on August 19, for the final debate at the National Constitution Center, where the winner will walk away with a $150,000 scholarship. The runner up will receive a $50,000 scholarship.
Now Debate This is made possible through the generous contributions of Dr. John M. Templeton, Jr., and Dr. Josephine Templeton, of Bryn Mawr. Both physicians are avid history lovers, and have a long history of supporting education and scholarship programs.
"No matter the outcome, both of these students are winners, but boy, will it be thrilling to watch them go head-to-head in our historic city," Hagy said. "The founding fathers would be proud."
About Now Debate This
Now Debate This is an online and experiential education program designed to involve high school students in creatively exploring U.S. history, culture, and civics, and the ways in which American history impacts contemporary issues. The Now Debate This campaign is produced by Pinnacle Performance Group of Philadelphia, an organization specializing in heritage education, and by Emmy award winning TV director Steven Feldman, of Nashville, Tenn, whose work has appeared on networks from PBS, CBS, MSNBC and the Disney Channel to Sesame Street, Politically Incorrect and Nickelodeon. Of counsel to the project are several academics including Allen C. Guelzo, Henry Luce Professor of the Civil War Era at Gettysburg College; Stuart Leibiger, associate professor and history department chair at La Salle University; and Associate Producer Patrick Spero, a PhD candidate at the University of Pennsylvania and a fellow at the McNeil Center for Early American Studies. For more information, please visit http://www.nowdebatethis.com for access the Now Debate This online social network at http://confab.nowdebatethis.com
Online distribution by Buzzplant http://www.buzzplant.com.
###