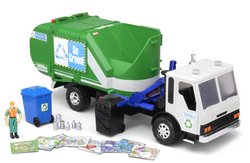 Van Nuys, CA (PRWEB) August 18, 2008
Funrise Toy Corporation is proud to announce that the Tonka© Go Green Garbage Truck has been honored as a recipient of an iParenting Media Award!
The Tonka Go Green Garbage Truck is a free wheeling vehicle that teaches young boys environmental responsibility and behavior. This vehicle recognizes if recycled material is placed in the proper bins and provides positive messaging that reinforces the need to recycle. Hands-on features include a bin collector, waste sorting lever and 2 waste bins.
Tonka® continues to be a staple of every little boy's toy box. Funrise expands on the Tonka tradition by offering boys a variety of vehicles with different features and accessories celebrating over 60 years in the industry! The easy to grasp Tonka trucks are perfect for little hands with big imaginations.
About Funrise:
Founded in 1987, Funrise is an adventurous innovator of superior toys and an industry leader in the manufacturing and distribution of the most popular children's toys. Simply put...we create fun! Funrise's core property portfolio includes Gazillion® Bubbles, HEADBANGERS™, Home Arcade, Tub Town®, Play 'n Pretty®, Truly Charmed™, Lil' Rockstar™, Shelcore's Shake 'N Bobble® and Sound Beginnings® with leading licensed power brands such as Tonka®, Disney©, Sesame Street©, NASCAR© and more, making our product offerings diverse and full of fun for kids of all ages! Funrise Toy Corporation is a wholly-owned subsidiary of Matrix Holdings Limited. Funrise U.S. headquarters are located in Van Nuys, CA, with offices in Hong Kong, United Kingdom, and France and with additional showrooms in New York City and Bentonville, AR. Funrise is operated by Arnie Rubin, vice chairman of Matrix and president of Funrise who also serves as Chairman of the Toy Industry Foundation (T.I.F.) and past Chair of the Toy Industry Association (T.I.A.). Funrise's success results from its commitment to quality manufacturing, progressive marketing and a values-based corporate culture.
###