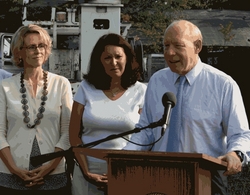 Removing hundreds of billboards that have blighted our streets and neighborhoods for decades is a real win for the citizens of Houston, and a tremendous quality of life accomplishment
Houston, Texas (PRWEB) August 14, 2008
Scenic Houston today joined Mayor Bill White in marking the removal of one of 821 billboards scheduled to be taken down from Houston streets. This was the 100th billboard removed as part of an agreement that Scenic Houston helped negotiate between the City and Clear Channel Outdoor.
After more than two years of negotiations, the City passed an ordinance in April 2008 to remove the billboard structures by January 2009.
"Removing hundreds of billboards that have blighted our streets and neighborhoods for decades is a real win for the citizens of Houston, and a tremendous quality of life accomplishment," said Olga L. Moya, president of Scenic Houston.
The 821 billboard structures covered in the agreement consist of 100% of Clear Channel's so-called "small" billboard structures and 39% of its medium-sized billboard structures After they are removed, only 466 of Clear Channel's medium-sized structures will remain in Houston and its extraterritorial jurisdiction. More than 50 of the billboards are to be removed from designated scenic districts.
Federal law limits the City's ability to remove almost all of the large "bulletin" billboards on highways and many major thoroughfares.
Scenic Houston is the only non-profit entity focused on ending visual blight from billboards, signs and other roadside clutter in Houston, Texas. Scenic Houston works to create attractive streetscapes, thoroughfares and highways that help maintain healthy neighborhoods, strengthen property values and attract new business. Scenic Houston provides expertise, research and programs to influence and support public policies that will improve the visual aspects of our region.
###