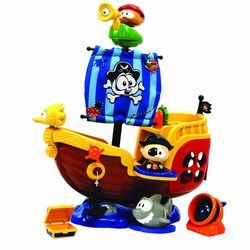 Van Nuys, CA (PRWEB) August 16, 2008
Funrise Toy Corporation is proud to announce that our Shelcore Shake 'N Bobbles Pirate Ship has been honored as a recipient of an iParenting Media Award!
The Shake 'N Bobbles Pirate Ship is a fun and interactive Pirate Ship that rocks while anchored at "sea" and provides hours of fun and adventure! Included with the ship is a treasure chest, mechanical cannon, 2 Shake 'N Bobbles Pirates and a shark. Press the fish button to hear the pirate songs and listen to the seagulls and the sounds of the sea!
Shake 'N Bobbles is a fantasy world of bobble figures, vehicles and playsets that come to life through actions, lights, sounds and music. By pressing on the driver's bobble-head a child can bring a world of shakin', travelin' action vehicles and playsets to life. All characters have magnets that secure them into the cockpit.
About Funrise:
Founded in 1987, Funrise is an adventurous innovator of superior toys and an industry leader in the manufacturing and distribution of the most popular children's toys. Simply put...we create fun! Funrise's core property portfolio includes Gazillion® Bubbles, HEADBANGERS™, Home Arcade, Tub Town®, Play 'n Pretty®, Truly Charmed™, Lil' Rockstar™, Shelcore's Shake 'N Bobble® and Sound Beginnings® with leading licensed power brands such as Tonka®, Disney©, Sesame Street©, NASCAR© and more, making our product offerings diverse and full of fun for kids of all ages! Funrise Toy Corporation is a wholly-owned subsidiary of Matrix Holdings Limited. Funrise U.S. headquarters are located in Van Nuys, CA, with offices in Hong Kong, United Kingdom, and France and with additional showrooms in New York City and Bentonville, AR. Funrise is operated by Arnie Rubin, vice chairman of Matrix and president of Funrise who also serves as Chairman of the Toy Industry Foundation (T.I.F.) and past Chair of the Toy Industry Association (T.I.A.). Funrise's success results from its commitment to quality manufacturing, progressive marketing and a values-based corporate culture.
###