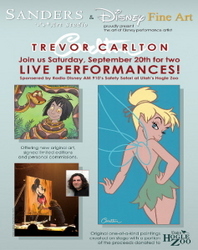 The Magic of Disney Fine Art Exhibition.
Ogden, UT (PRWEB) August 18, 2008
Sanders Art Studio.com in Ogden, Utah is pleased to announce "The Magic of Disney Fine Art Exhibition." This exciting new exhibit features Artists Trevor Carlton, Tricia Buchanan-Bensen, James Coleman, Mike Kupka, Harrison Ellenshaw and Peter Ellenshaw, among others.
The exhibit showcases over 30 of your favorite Disney Classic Film moments such as Cinderella, Alice in Wonderland, The Many Adventures of Winnie the Pooh, Kermit the Frog, Peter Pan, Mickey Mouse, Pirates of the Caribbean, Mary Poppins and much more.
Sanders Art Studio Art Opportunites:
Disney Fine Art Live Performance Event by Disney Artist Trevor Carlton -- September 20, 2008 at Radio Disney 910's Safety Safari at Utah's Hogle Zoo
Disney "The Olympic Champ" (1942) Goofy (25) Limited Edition Art Giclee -- Gift with Purchase 2008 Beijing Summer Olympic Pin
Disney "The Jungle Book" KAA & Mowgli (30) Limiteed Edition Art Giclee
Gift with Purchase Disney Limited Edition Pins - Tinker Bell LE 100 & Mickey Mouse Safari LE 50
Walt Disney Signature Art Collection
Walt Disney Signature, Disneys's first upscale, non-character lifestyle brand, marries whimsical design elements with sophisticated styling in its growing collection of product offerings. The new collection of over 150 pieces of framed wall art takes inspiration from the original artistic sketches of classic Disney films.
In addition to the exhibit, over 500 limited-edition Disney Fine Art Giclee's on canvases are available for purchase on a new website and virtual gallery at Sanders Art Studio.com.
The website will be showcasing work from the below listed artists:
John Alvin - Toby Bluth - Tricia Buchanan - Bensen James Coleman - Dick Duerrstein - Harrison & Peter Ellenshaw - Michael & Inessa Garmash - Manny Hernandez - Mike Kungl - Mike Kupka - Allison Lefcort - Stephen Reis - Tim Rogerson - John Rowe - Jim Salvati - Jim Warren - Trevor Carlton
Quantities are limited. Limited-Editions vary in size.
Sanders CC - established in 1960, is Northern Utah's leader in Numismatic Coins and Collectibles. They carry a wide selection of US Coins, including the US Presidential Coin program, and World Coins.
The Managing Director of Sanders CC is KC Sanders; KC has a long history working for the Walt Disney Company. He worked in the Disney Specialized Businesses area for over five years, creating Disney Fine Art Exhibitions at the Disneyland Resort, Walt Disney World Resort, and Disneyland Paris Resort. He is bringing his knowledge, expertise and passion back to Utah to showcase the magic of Disney for the community.
Disney elements © Disney
# # #