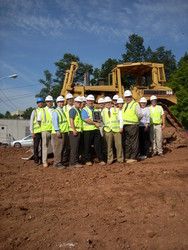 preserving human life on, above and below the earth.
San Carlos, Calif. (Vocus) August 19, 2008
Turner Construction Company has amassed more than five million safety observations using the DBO2 SafetyNet system, which was first implemented in November 2004. This safety milestone was commemorated at the 50 Connell Project in Berkeley Heights, NJ--where the five millionth observation was recorded--on August 5, 2008.
DBO2's leading product, SafetyNet, helps companies at risk for catastrophic loss to track and measure the leading indicators in their safety systems--and to evaluate how effective, affordable and sustainable these systems are on an ongoing basis.
"DBO2 SafetyNet has generated a wealth of information on safety performance and trending--both for Turner and our subcontractors," says Cindy DePrater, Vice President and Corporate Director of Safety and Loss Control. "With DBO2, we have the ability to tie together 45 of our business units across the nation and to track subcontractor progress in implementing Turner's safety program and our requirements above and beyond OSHA. We have approximately 6000 ongoing projects at any one time and 280 full-time safety professionals who have a lot of ground to cover. DBO2 allows those safety professionals to really hone in on the subcontractors to create and raise awareness of our safety requirements and Building L.I.F.E. (Living Injury Free Everyday). The instant reporting that SafetyNet offers enables us to make the right decisions at the field and operational levels."
Safety Superintendent Richard Korner recorded the five millionth observation in the SafetyNet system and was informed by his project executive of the news. "It felt like I hit the lottery, that I was at the right place at the right time," he says. "But as I thought some more about it, I believed it could truly have happened to any one of us, in the course of walking our jobs and doing our best to keep each other out of harm's way."
Korner has been a SafetyNet user since January 2006. Since then, he has witnessed a rapid growth in overall usage and top-down involvement. "Over the last five years, it's just amazing how SafetyNet has caught on. I know that the project executives meet on a regular basis to discuss observations, who's making them, and which jobs are doing better than others. This information that we collect is something that's carried all the way up to the top and trickles back down."
Looking ahead, DePrater expects the next significant milestone to be deeper, more meaningful engagement with the system. "The five million observation milestone signifies engagement in the DBO2 SafetyNet system by everyone in our company," she says. "Next, we will focus on what people do with those nuggets of insight in order to continue to raise the bar on safety and loss prevention, not only for Turner but the industry as a whole. We're on the right track with improving the use of the system and extracting meaningful data that we can use for positive change."
Barry Nelson is CEO of DBO2 and is inspired by Turner's results. "Our entire team salutes Turner's commitment to using leading indicators to drive improved organizational, financial and safety performance. The dramatic and sustained positive results that Turner has derived from using both leading and lagging indicators provides a glimpse at the new standard for risk and safety management," he says.
About Design Build Own Operate Inc. (DBO2):
DBO2, located in San Carlos, CA, was founded in October 2001 and has emerged as a leader in measuring human error and its consequence in the workplace. DBO2 is a wholly owned subsidiary of Industrial Scientific Corporation, sharing a joint vision of "preserving human life on, above and below the earth." With more than 43 million observations, DBO2 has amassed the largest repository of workplace behaviors and conditions in the world. DBO2's SafetyNet, QualityNet and ProductivityNet software services are currently used on a daily basis at more than 7,000 worksites for some of the world's largest companies.
###