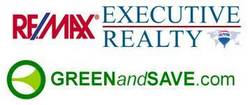 The BEST user-friendly site for Homeowners.
Philadelphia, PA (PRWEB) August 15, 2008
FACT 1: According to the Harvard Joint Center for Housing Studies, American adults spent $226 Billion on 'green' goods per year at the turn of the millennium. Sales of eco friendly products are growing at over 20% a year. The Home Remodeling industry accounts for over $240 Billion annually.
FACT 2: According to the US Department of Energy, over 40% of America's energy consumption and green house gases come from homes and buildings.
CONCLUSION: Every home presents an opportunity to reduce our dependence on overseas oil and help save the environment.
A top Philadelphia area Real Estate Agency and a Green Architect have united in their commitment to empower American homeowners to take action…all while regional and national elected officials and corporate decision makers flush out energy policies and plans.
David L. Bershad, President - RE/MAX Executive Realty, says, "RE/MAX Executive Realty recognizes the importance of energy efficiency for today's and tomorrow's homeowners. Our agents strive to fulfill our obligation to our clients and to the communities by learning as much as possible about GREEN homes. By partnering with GREENandSAVE.com, our agents are now armed with the ability to guide our buyers, sellers, and past clients towards making their properties more efficient. Homeowners can start small and learn about the payback time on light bulbs and programmable thermostats, or contact us to arrange for complete home energy evaluations at a discounted rate from the team of GREENandSAVE consultants. We are proud to take this first step towards the future, and we are excited to start providing these value added services to the public."
Charlie Szoradi, CEO - GREENandSAVE.com, says, "David Bershad's enthusiasm to go GREEN for his whole team of real estate agents has served as a true benchmark. In almost every state across America, we have individual agents in our directory and members of our Registered Agents Program. However, RE/MAX Executive Realty is the first broker in the region and in the country to make the commitment to empower all of their agents to use next generation green home information to save homeowners money and the environment. Now, over 50 agents in the lower and upper Philadelphia Main Line, who collectively connect to thousands of homeowners each year, have the marketing resources and Green Home Performance Guides to change the way that we think about our homes. Philadelphia is the home of American Independence and this benchmark brings us a little bit closer to making our Philadelphia region home to America's new energy independence."
About GREENandSAVE.com:
GREENandSAVE is a pioneer in the green movement. The company's founder Charlie Szoradi wrote his Masters of Architecture thesis in Green Design over 15 years ago at the University of Pennsylvania, and in the spring of 2008, Charlie was selected as the cover story profile of Inventors Digest Magazine. His energy independent home and the GREENandSAVE.com website have been featured in magazines ranging from Solution at Home to Metropolitan Home. Major online resources and the 150 year old institution, the American Institute of Architects, link in to GREENandSAVE.com as a top resource for their site visitors. Clear Channel Radio's Great Green Home Show also picked GREENandSAVE.com as "The BEST user-friendly site for Homeowners."
When it comes to energy and environmental advantages, the information and Return On Investment (ROI) calculations on GREENandSAVE.com are based on comprehensive research over the past four years and a combination of reports from the U.S. Department of Energy, (DOE) the Environmental Protection Agency (EPA), ENERGY STAR® for Homes Program, US Green Building Council's LEED for Homes Program, American Council for an Energy-Efficient Economy (ACEEE), International Energy Conservation Code, PLUS information directly from Foundation and University Studies, Architects, Manufacturer Specifications, Distributors, seasoned Builders and Installers, and Homeowners with actual Performance Feedback. The content is typically based on a single family house with average utility demands for a family of four. The overall content online is intended to serve as a guide to help homeowners make decisions and see the hierarchy of performance and payback.
Each topic page includes the photographs, descriptions, ROI modeling, and a 'TAKE ACTION' section with information on the top rated products, links to Grants, Tax Credits, and Qualified Installers by zip code. Plus, homeowners can review the research and link directly in to the top rated places to make a purchase if they want to get started saving money and the environment.
About RE/MAX Executive Realty - http://www.ExecutiveRealty.com
RE/MAX Executive Realty has two offices conveniently located in Bryn Mawr and Wayne, serving Philadelphia's Main Line and beyond for 20 years. One stop shopping with Mortgage, Title and Homeowners Insurance allow clients to streamline their real estate transaction with one company.
Whether buying or selling residential real estate, RE/MAX Executive agents have the experience you need to have a successful transaction. As a group, RE/MAX Associates lead agents of competing companies in experience, education and production. They average more than 13 years of real estate experience and, across the network and hold a higher number of professional designations than agents of any single competitor. The average RE/MAX Associate out-produces competing agents three to one.
Carol McMichael, Broker - Owner founded the company in 1989 and continues to lead the company towards better customer service and market share. President David Bershad ensures that RE/MAX Executive is on the cutting edge of real estate trends and technology enabling agents to provide the best service available in the real estate industry.
RE/MAX has a true global presence with the name and balloon logo recognized all over the world and has the most visited real estate company website remax.com. With over 100,000 agents in over 62 countries, you can be sure you home is getting the exposure and marketing it deserves.
###