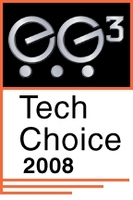 VMETRO is honored to be selected by eg3.com. The ADC510 illustrates VMETRO's commitment to market leadership as well as providing leading edge technologies within the framework of industry standards
Houston, TX (PRWEB) August 17, 2008
VMETRO, a leader in embedded computing solutions based on standards such as VXS (VITA 41), VPX (VITA 46), XMC (VITA 42) and FMC (VITA 57) that utilize multi-gigabit serial interconnects, today announced that eg3.com has selected FPGA Mezzanine Card: Industry's First FMC is VMETRO A/D Module for a "Tech Choice" Award for Summer 2008 in the computer-on-module category. VMETRO's ADC510 was selected as an Editor's Choice due to its innovative design that makes it easier for developers to integrate FPGAs into their embedded system designs.
"VMETRO is honored to be selected by eg3.com. The ADC510 illustrates VMETRO's commitment to market leadership as well as providing leading edge technologies within the framework of industry standards," says Mike Jadon, Chief Technology Officer Embedded Systems at VMETRO.
The "Tech Choice" awards focus on recent products that are both cutting edge and design‐practical and includes 2 phases: the editor's choice and reader's choice awards. A reader's choice survey (go to http://www.eg3.com/techchoice/ to place your vote) is being conducted until September 5, 2008. The eg3 Tech Choice awards are the newest and one of the largest "reader's choice" awards in the embedded and electronic design industries. The awards commend new products that take promising technologies and provide practical ways that design engineers and programmers can turn these technologies into real designs, today.
About VMETRO:
VMETRO [OSE: VME] provides commercial-off-the-shelf (COTS) board- and system-level embedded computer products from development to deployment for applications in Aerospace & Defense, Industrial, Communications, Medical, Enterprise Computing and Network Storage. Our products offer the highest levels of performance, innovation and reliability by applying state-of-the-art technology within the framework of well established industry standards.
VMETRO is a leading supplier of 1) Embedded Computing - ruggedized and commercial grade high-performance Digital Signal Processing and FPGA Processing solutions, Analog, Digital and Fiber-Optic I/O, and Buffer Memory Nodes 2) Data Recorders & Storage - ruggedized and commercial grade real-time long-endurance recording, playback and analysis systems for high-speed sensor data 3) Protocol & Bus Analyzers - debug, validation and analysis tools for testing computer systems and 4) Network Storage devices - solid-state non-volatile cards designed to increase performance and maintain reliability in server and storage appliances. For more information, please visit VMETRO.
# # #