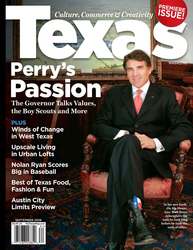 But we will explore every part of Texas, and all kinds of events are welcomed -- as long as your zip code is in Texas
Boerne, TX (PRWEB) August 19, 2008
Departing from the "if it's negative, it's news" approach to magazines dedicated to Texas, Publisher Kelley Glick is putting her best boot forward with the launch of Texas Magazine on September 15, 2008. The new bi-monthly consumer magazine and its online version Texas Magazine Website Online - offer a fresh, positive perspective on the lifestyle, allure and essence of being Texan - by birth or adoption.
"We concentrate on the best aspects of life in Texas and the exceptional people, places and events that make Texas so vibrant," said Glick, publisher of Texas Magazine and founder of Blue Sky Publications, LLC. "We will explore the arts, culture, businesses, and creative endeavors in the state, plus include a dining guide, travel ideas and calendar of local events by city. And, we promise to make the magazine a good read."
Regular content from writers around the state includes: Artistically Yours introducing filmmakers, musicians and artists and their work; Business Case, exploring the latest business trends in the state and profiles of movers and shakers; Healthy Texan, highlighting the state's best places for health and activities for fitness; and, Portrait, profiling accomplished Texans.
Urban life will be a focus for the publication, with coverage dedicated to the major metropolitan areas -- Dallas, Fort Worth, Houston, San Antonio and Austin. "But we will explore every part of Texas, and all kinds of events are welcomed -- as long as your zip code is in Texas," adds Glick.
The launch issue includes a profile of Gov. Rick Perry as author of his book On My Honor; a timely report on wind energy in Texas; an article on how Nolan Ryan and his two sons have brought minor league ball to Austin and Corpus Christi; a profile of one of the Lost Boys of Sudan who now lives in Plano; and, a portrait of urban life in the fast-growing city of Fort Worth. Glick also has applied for consumer magazine membership with the media auditing firm BPA Worldwide to track circulation, geographic coverage and ad pricing.
Texas Magazine is available Texas Magazine Subscriptions Online for $19.95 a year for the print edition; the price includes access to the digital version with multi-media options and click-through access to the magazine staff and advertisers. Newsstand copies are available at the suggested retail price of $3.95 and authorized stores currently include H-E-B, Kroger's, Brookshire Brothers, Carnival, Albertson's, Randall's, Sam's Club, Barnes & Noble, Hastings, Books-A-Million, Borders and more. Public placement copies are available at select hotels and tourist locations around the state.
Texas Magazine is the most ambitious publication for Blue Sky Publications, LLC, based in Boerne, Texas, and established in 1996. Blue Sky also publishes Country Lifestyle Magazine, the award-winning, subscriber-based consumer magazine, also sold on newsstands statewide, that focuses on the luxury lifestyle, people and way of life in the Texas Hill Country. The company produces three real estate advertising-only magazines, marketing real estate listings in central Texas.
For more information, visit Blue Sky Publications.
For more news, publisher interview, or additional information:
Kelley Glick, Publisher, (830) 816-7355.
###