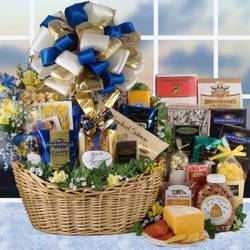 We see more people turning to online because it's much more efficient.
Parker, CO (PRWEB) August 19, 2008
(http://bisketbaskets.com) August 19, 2008 -- It's time to start reconsidering the holiday shopping plan. Each year, shoppers around the nation rush to complete their holiday shopping. However, with the increase in energy prices, as well as retail inflation, many shoppers are shifting to buying their gifts online. Gift baskets, online gift certificates, and other versatile items could see a huge boost in sales based on the findings reported by several major retailers and Forrester Research in the New York Times.
"E-commerce, when you compare it to store retail is a bright spot because whereas store growth is in the middle low single digits e-commerce is still growing at least in the mid to high teens," said Jeffrey Grau, retail e-commerce senior analyst with eMarketer.
This year, internet sales are expected to grow as the holiday season approaches. In 2007, internet sales hit $175 billion. 2008 looks to top those figures with a forecasted total surpassing $200 billion. With this growth in sales, gift retailer web sites like BisketBaskets.com are offering shipping deals, expanded product lines, and customizable options to improve the holiday shopping experience. These customer-friendly touches have consequently driven traffic to the web as shoppers look to simplify their holiday shopping woes.
"With gas being such an issue, we know that mall traffic is down more than off-mall traffic," said Mike Boylson, chief marketing officer for J. C. Penney. "We see more people turning to online because it's much more efficient."
BisketBaskets.com, gourmet gift baskets supplier, like many other online retailers has also adapted its business to the increasing energy costs. The company has made several sustainable and environmentally-friendly changes to their business practices, including recycled packaging, paperless offices, and a 47% reduction in lighting energy. These "green" business practices look favorable in the eyes of holiday shoppers, as the state of the environment comes to a forefront. Rising energy costs, inflation, and the drooping economy have contributed greatly to the "green" cause, allowing for retailers to improve their quality of business. In addition, internet sales in "green" products are on the rise.
About BisketBaskets.com:
BisketBaskets.com is a trusted retailer of Gift Baskets and packages for men, women, children, and pets. Based out of Parker, Colorado, BisketBaskets.com is proud to bring forth a wide selection of Holiday Gift Baskets that are perfect for anyone this season. In addition, BisketBaskets.com also features Colorado Gift Baskets to compliment any Rocky Mountain vacation or conference.
###